The tour of Rashtrapati Bhavan will be available for public viewing for six days a week except on gazetted holidays.
From June 1, 2023, the Rashtrapati Bhavan will be accessible for general public viewing for 6 days a week, according to the official statement. Previously, the doors of Rashtrapati Bhavan opened for public viewing only three days a week only on Friday, Saturday, and Sunday from 9 am to 4 pm. For the first time, the Rashtrapati Bhavan Museum will be opened to the general public seven days during the week from 9:30 am to 4:30 pm, except on official holidays.
Every weekend between 8:00 and 9:00 am, guests are invited to the forecourt to see the Change of Guard Ceremony, according to representatives of the President's Secretariat. Rashtrapati Bhavan stated in the statement that the event won't take place on Saturday if it is gazetted off or if there are other unique circumstances.
The tour of Rashtrapati Bhavan is divided into 3 parts/circuits – Part 1 covers the main building and central lawn of the President's Estate including its premier rooms such as Durbar Hall, Ashok Hall, Banquet Hall, Drawing Room and many more. 
Part 2 comprises the Rashtrapati Museum complex. Part 3 opens during Udyan Utsav. Part 3 promises a tour of Rashtrapati Bhavan's most famous garden, Amrit Udyan, formerly known as the Mughal Garden, Herbal Garden, Spiritual Garden, and Musical Garden.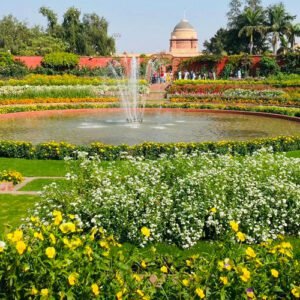 The visit to section 1 is permitted to be made five days a week, from Wednesday to Sunday, whereas the visit to the circuit is permitted on all days but Monday. However, guests must reserve spots. 
The Entry ticket prices are:
Rs 50 per person/circuit
Rs 1200 for a group
Rs 1200 + 50 for more than 30 people group.
Rashtrapati Bhavan or President's Estate is known for its creation of exceptional architecture. Sir Lutyens designed the H-shaped building, which covers 5 acres on a 330-acre estate. The palace's four floors, which total 340 rooms, also have a 2.5-kilometre road and 190 acres of gardens.