From the Royal Land of India, We Have Taken Out a Cocktail this Time for You To get Lost in The Spices and Freshness of The Nation!
Royalty; is a word that everybody likes but not everybody can live up to. Being royal is not just being rich, it's a whole package of little things that makes you feel different from the rest. While royalty is a whole different vibe, one place that's famously known for its rich and plush heritage is India. Royals of India were amongst the richest of the richest. While they had everything in this world, one thing that set them apart from the other is what they drank back then. Today, we are here to tell you about a royal cocktail founded in the royal country of India.
INGREDIENTS:
Cinnamon Syrup (1-2 Cup)
Granulated Sugar (1 Cup)
Cinnamon Sticks (Around 4 large pieces)
Water (1 cup)
Golden Fort Indian Gin Cocktail
Jaisalmer Indian Gin (50 ML)
Lime Juice (15 ML)
Cinnamon Syrup (10ML)
Cloudy Apple Juice (50 ML)
Sliced Green Apple for Garnishing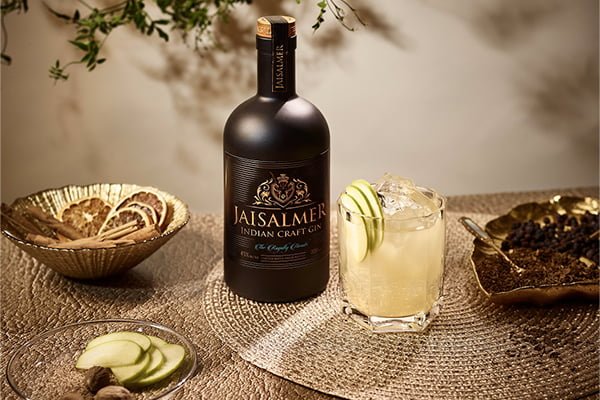 Royals of India were amongst the richest of the richest.
HOW TO MAKE:
Preheat a pan or the required utensil at around 200-220

°C

. First, we will make the Cinnamon Syrup by brining all the ingredients for the same together and start boiling them.
What we have to do now is gently stir the mixture until the sugar gets dissolved completely. You can reduce the heat and let it cook for around 8-10 minutes. This will make the syrup flavourful and not let any sugar crystal get in your way.
After thorough stirring, take the pan off and let the mixture cool for some time. Don't put it in a refrigerator, let it cool at room temperature itself.
Now after 10-15 minutes, remove the Cinnamon sticks from the mixture and filter it further in a glass. Make sure that the residue is semi liquid and no solids are present in them.
The fun part starts now, wanting something royal can't be overnight. You have to keep this mixture refrigerated for around 2 weeks or 15 days.
After two weeks, when the mixture is ready, pour the Jaisalmer Indian Gin in a glass and top it up with the cinnamon syrup, lime and apple juice.
To make it all worth, garnish the drink with some green apple slices and feel the royalty slide down your throat.