With the release of "Liger," Karan Johar and Dharma Productions resume their operations and deliver this year's biggest failure.
Another Bollywood movie has underperformed in theaters this week, and fans have undoubtedly expressed their unhappiness with the stars and the production team. It's understandable why boycotts of Bollywood films are so prevalent on Twitter. Over the past several years, Vijay Deverkonda has become the topic of Indian cinema. The kind of roles he has played are unique to him and have a certain aura about them. His performance in Liger was strong, but the picture may fall flat sooner rather than later owing to a terrible storyline and maybe even bad casting for the other performers.
Vijay, known as Liger in the movie, portrays a stuttering kickboxer who relocates with his widowed mother from Telangana's Karimnagar to the city of Mumbai in an effort to become a successful mixed martial arts (MMA) fighter. In order to make a living and allow her son, Liger, to follow his passion, his mother, Balamani (Ramya Krishnan), sells tea from a mobile kiosk.  Fans of Indian TV serials made by Ekta Kapoor were brought back by the background effects that the production team used to strengthen Vijay's voice and give his character more depth. Only the word "fighter" can be spoken by Liger without stuttering. The world surrounding him hinders him from embracing his state, despite the fact that he looks to be perfectly comfortable with it. Someone asks him, "How do you sound so bad and look so nice?"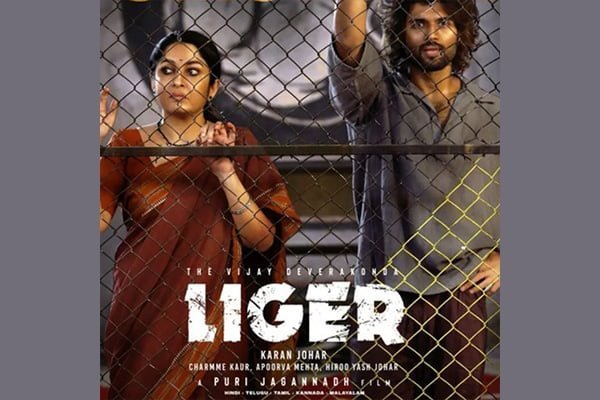 From the trailer, the movie looked a lot more interesting and bought passion among the fans for bollywood again
The most believable character in the film is Ananya Pandey, who goes by the name Taniya. Model Taniya enjoys posting reels and other content online and aspires to acquire millions of fans. She plays a really stupid role in the first phase, but after speaking to Liger, she begins to appreciate him. When Taniya fought Liger and after seeing him compete in the ring, she just fell in love with him, the plot of the movie was completely illogical. Taniya and her mother got into a fight as the former was filming a video for social media inside a temple.
It is another flop for Ananya Pandey to add to her decent collection in her short time in the movie industry 
The worst thing about Liger isn't just how enormous, bloated, and uncomfortable it is; it's also how dreadfully sexist and grossly inconsiderate it is to the protagonist's speech impediment. According to Liger, women were created by God to serve as a warning to males that hell exists. He refers to them as dolls or demons, neither of which is an affectionate expression. His stammer is made fun of by those nearby. It's a fault that even his mother can recognise.When Liger's mother mentioned that in order to overcome a weakness or imperfection, one must succeed, it was one of the worst passages where the viewers would have felt awkward. She continues by saying that if a person succeeds, even a dark person seems fair, and a person who is overweight begins to look skinny. Even though she did so to inspire Liger to battle and pursue his aspirations, it was done in a way that was extremely careless and might easily offend others who were spectators.
Not to alarm you, but this was only the beginning of the end of logic in this movie. All of this happened just before the intermission in the first half. After the intermission, more than 80% of the auditorium was absent, which illustrates the nature of the film Liger. Liger wins the National Championship after being inspired by Taniya's anguish and becomes renowned throughout India for chanting "Waat Laga Denge." With the assistance of Chunky Pandey, a businessman in the United States of America, Liger is then registered as a UFC (Ultimate Fighting Championship) boxer. He sponsors the tickets of his coach, him and a few of his colleagues. He also promised that his company would sponsor him throughout the tournament which would generate extra funds for him. 
The cameo from Mike Tyson might mean that the theatres will be booked not only in India but from other countries as well
His mother rang him after he had narrowly won his first bout in the United States and advised him to use the mental image that the opponent had murdered his father to figure out how to defeat him. Using this guidance, he advances to the UFC finals, the hardest MMA league in the world. Then, during a party thrown by Chunky Pandey the day before the match, Liger learns that Taniya is the daughter of the businessman who has funded his journey and career. After consuming alcohol at the party, he launches into a complete rant about how she is a monster and how she left him due to a speech defect. He continued by saying that what she had done to him had given him more incentive to fight, win, and show the rest of the world that he is not inferior to anybody.
The greatest twist occurs when Taniya is abducted by a goon whom Chunky Pandey had borrowed money from for his company but had not paid back. The gangster's name was Marc Anderson (Mike Tyson), a well-known boxer whose courageous actions had gained him international renown. He was chosen by Karan Johar and colleagues to be the largest American mobster. Chunky Pandey said in another tirade in the film that Taniya was the reason Liger was invited to the US; she couldn't watch her weep and knew she would adore it if you could realize his aspirations. Liger uses every means possible to trace Taniya, who was abducted and is currently with Marc Anderson. He left his UFC final to search for her and take her back. He was willing to go against the best boxer and martial artist of all time to win her back without having to pay back the money. He challenged his inspiration and hero to a duel in the desert. Liger struggled to defeat him, but in the end he remembered that Marc Anderson had murdered his father after following his mother's instruction. Liger engages in vigorous combat and strikes the infamous Marc Anderson before the latter finally calling time and apologizing to him. This was the most absurd thing I've ever heard of, and the rationale was ludicrous. They took a photo and it seemed that they were "living happily ever after" as the movie came to a close.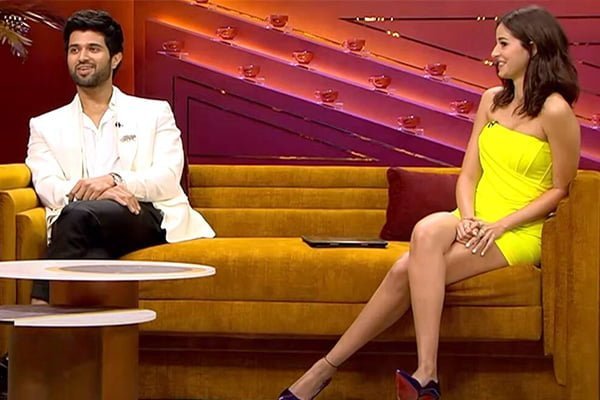 The star duo also appeared in the famous talk show, "Koffee With Karan"  for the promotion of the movie
In terms of the performances put in by different actors, Vijay Deverakonda's cutting-edge physique and action prowess can't save this major disaster of a movie. The other performers in the cast, meanwhile, ham it up and vie to outshout one another. The only person who made sense in one of the roles was Ronit Roy, who was the master of Liger. We have seen Ronit Roy deliver such hard roles and was the only actor who performed admirably in our opinion.
In conclusion, Liger is a movie that you should avoid seeing, and even if you like Vijay Deverakonda or Ananya Pandey, you may view it soon on OTT platforms rather than blowing irresponsible amounts of money at the cinemas.  If Poo from "Kabhi Khushi Kabhie Gham " was rating this movie, she would rate it as "minus". The bar is so low when the action starts that one is confident it cannot get much lower. It does, though. Liger is a movie of such caliber. It's terrible right from the start and just goes down.