Ananya Pandey shared a Then Vs Now Photo with Suhana Khan and Shanaya Kapoor last night, recreating childhood picture
Bollywood actress Ananya Pandey who always looks chill and happy with her friends shared a throwback picture last night on Thursday, June 22 with Suhana Khan and Shanaya Kapoor. In the Instagram story, the actress shared a collage of the before and after pictures in which they can be seen standing opposite each other and posing with their hands (Ananya Pandey in the left, Suhana Khan in the middle, and Shanaya Kapoor in the right).
The picture that was part of the shared collage featured the youthful, perplexed trio posing with their water guns in Ananya, Suhana, and Shanaya's childhood photo. Suhana stands in the center, while with wavy hair Ananya and Shanaya pose on the left and right respectively. Right below the childhood picture, the actresses are grown-ups and recreate the childhood picture and refresh the memory. By sharing the picture, Pandey attached a GIF that reads, "Sisters 4ever" (sisters forever).
The same picture was also shared by Shanaya Kapoor on her Instagram story with red heart emoji. The picture was full of love and friendship that showcase the strong bond of the trio in both reel and real life.
Ananya Pandey shares a very close friendship goal with Shah Rukh Khan's daughter Suhana Khan and Sanjay Kapoor's daughter Shanaya Kapoor. All three of them have been besties since childhood, grew up together, and now, will be seen as contemporaries soon in Bollywood Industry.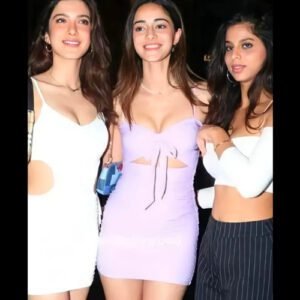 This is not the first time when they shared their picture together. Many times they show their love and bond for each other, whether there is at a party or there is an outing.
Even in an episode of Koffee with Karan Season 7, when Ananya Pandey was invited to be a guest on the chat show with Vijay Devarkonda, KJo asked Ananya Pandey whether she thinks her friendship with Suhana Khan and Shanaya Khan will survive in the future owing to the industry dynamics. So in this, Pandey immediately reaffirmed their friendship and said, "It's not even friendship anymore, I think it's a family now."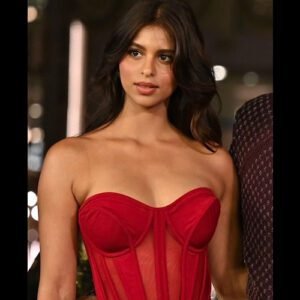 Ananya Pandey had previously talked to a leading News Agency about how the three grew up sharing a dream to one day grace the silver screen. She has also referred to herself as the "drama queen" of the group, claiming that Shanaya is the "most sincere" and Suhana is the "most loving."
On the work front, Ananya Pandey will be seen in her 6th film 'Dream Girl 2' opposite Ayushmann Khurrana and Shanaya Kapoor will make her debut in Bollywood with Shashank Khaitan's next 'Bedhadak' with Gurfateh Singh Pirzada and Lakshya Lalwani.
Meanwhile, Suhana Khan is making headlines for two reasons: one, because of her Bollywood debut, which she will make with Zoya Akhtar's 'The Archies', and second, because of her headline: she buys agricultural land in Alibaug worth Rs 12.91 crore (As per reports).