The friendship trio of these Bollywood girls has been appreciated a lot. While their parents share a great bond, these girls are seen hanging out with each other every now and then. So read on to know more about these beauties.
Most of us are completely aware of the fact that there are instances where there have been controversies between Bollywood girls. Although, many divas have denied that in the best possible manner, and some of them have even shown support for their rivals, the clashes are something that is always under the radar of the papz. But this girl gang we are talking about here has nothing to do with those 'cat fights' that Bollywood is known for.
Ananya Pandey, Suhana Khan and Shanaya Kapoor are the daughters of famous Bollywood celebrities, Chunkey Pandey & Bhavana Pandey, Shah Rukh Khan & Gauri Khan and Sanjay Kapoor & Maheep Kapoor. Ananya, who is a well-known actress in Bollywood now has got global exposure and Shanaya and Suhana are likely to follow the same field of acting as well, just like their parents, who are extremely famous in the entertainment industry.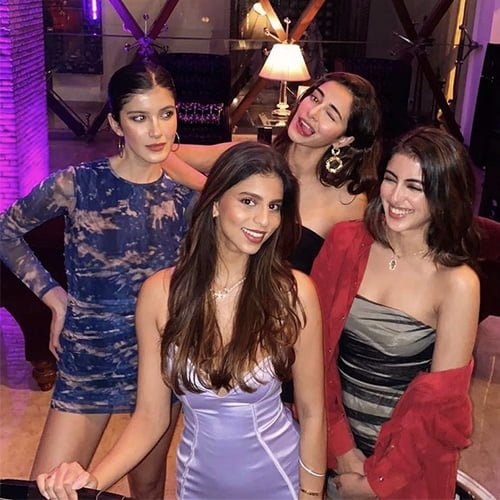 Shanaya Kapoor, Ananya Pandey and Suhana Khan with Amitabh Bachchan's grand-daughter, Navya Nanda.
Talking about their mothers, Gauri needs no introduction for her personality and interior designing skills. But Bhavana and Maheep are no less than celebrities after they became a part of Karan Johar's show 'Fabulous lives of Bollywood wives'. By the way, these girls were the real show-stealer in the show as well, as it portrayed how their mothers' lives revolve around them and trust us, it was adorable.
According to Maheep in an interview and in the show, Ananya, Shanaya and Suhana are inseparable and share a very special bond, just like their parents. For the unversed, Maheep Kapoor, Bhavana Pandey and Gauri Khan have known each other even before they were married to their husbands, and this is exactly how these girls are.
This throwback picture posted by Ananya Pandey is too cute to handle.
Ananya, who is a star herself now, has spent all her childhood with Shanaya and Suhana. Shanaya Kapoor is all set to make her Bollywood debut in her upcoming movie 'Bedhadak', which falls under the banner of Dharma Productions, which also launched Ananya Pandey in the year 2019. Suhana on the other hand is likely to join her best friends in the industry soon after she completes her education.
This beautiful girl gang is not only appreciated by fans and their parents, but also by other stars of Bollywood, who have literally seen these girls grow up together. Suhana, Ananya and Shanaya often compliment each other on their Instagram handle, where they express a lot of love for each other whenever any of them posts a picture. No doubt about the #BFF-goals these extremely beautiful girls are giving to all other girl-best friends out there.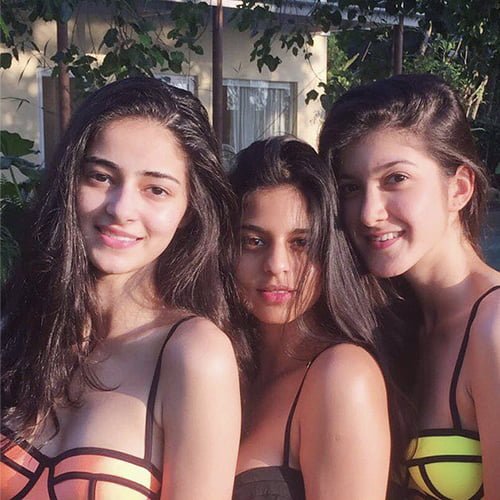 After Ananya and Shanaya, Suhana is expected to start her acting career soon after completing her education.
This friends-forever-since-childhood gang was recently seen at Ritesh Sidhwani's birthday bash, where they reunited after a long time. As all of us like to, they clicked and posted a lot of pictures together. A special story was posted by the fit and hot, Malaika Arora, where this super gorgeous woman posed with these girls and captioned it, 'Baby dolls all grown up.'