Here's how to properly enjoy the summer season: by making a refreshing mango mojito! Enjoy this tart, fizzy drink balanced with the sweetness of mangoes for your perfect summer drinking binge.
We don't know a single person who would refuse a refreshing, cold mojito in this sweltering heat. Add in mangoes and white rum and you have the perfect boozy drink to kickstart the summer season with! Adding seasonal fruits to your diet is the perfect way to look after your health while enjoying at the same time. And the best way to do that? Turn them into yummy, boozy, cocktails! If you too were on the lookout for the ultimate summer drink, your search ends here. This recipe will yield 4-6 servings and is the perfect treat for mango lovers.
INGREDIENTS:
FOR THE MINT SIMPLE SYRUP:
• 8 ounces white sugar
• 8 ounces water
• 5 ounces fresh mint leaves.
FOR THE MANGO MOJITO
• 8 ounces mango purée
• 16 ounces white rum
• 8 ounces fresh lime juice
• 16 ounces club soda
FOR THE GARNISH:
• Fresh lime wedges
• Mint sprigs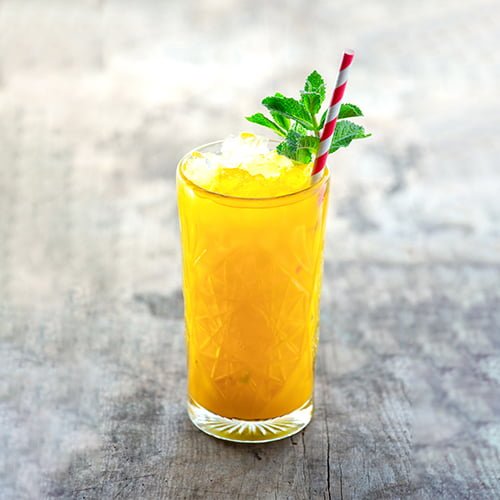 This drink is a perfect treat for all mango lovers.
METHOD:
FOR THE MINT SIMPLE SYRUP:
• Take a small saucepan and set it over medium-high heat. Add sugar and water and bring to a low boil. Simmer till the sugar is completely dissolved.
• Once the sugar dissolves completely, add in the mint leaves. Simmer for another 4-5 minutes but don't stir.
• Pour the simple syrup into a glass jar through a mesh strainer to strain the leaves.
• Allow the syrup to cool and refrigerate for 30 minutes until completely cooled.
FOR THE MANGO MOJITO:
• Once your mint syrup has cooled down completely, take a large pitcher and pour it in.
• Add in the mango puree and stir.
• Add in the rum and lime juice and again stir.
• When you're ready to serve, add in the club soda and give it a good mix to ensure everything has melded completely.
• Pour into ice-filled glasses. You can garnish it with lime wedges and fresh mint sprigs.
ADDITIONAL NOTES:
• For making a mocktail version, just omit the rum and double the amount of club soda.
• Make sure to use fresh mango purée only. If unavailable, you can make use of canned purée or mango juice.