We've Always Known That The Best Methods For Calming The Human Mind Have Been Found In Art And Culture. So, We're Here To Introduce You To The Travel Location That Has All The Answers To Your Vacay Queries.
Social media may be the ideal way in today's tech-obsessed world to exhibit beauty around the globe to armchair travellers around the world, but travelling is so much more than just capturing that perfect Instagram photo. Travel should have a purpose. It ought to energise and uplift you, restore and ground you, instruct and test you, and most importantly, it ought to humble you.
Travel gives us the most beautiful stories with so many moments and memories. All these countless moments and memories should always be cherished. Travel teaches us lessons about experiencing new horizons that can be passed on to others. Other than that, you can blame the busy work life we all have that makes us want a vacation every now and then. After all, what could be a better way to let your hair loose than a relaxing vacation and a break from your regular work life? So, this time we're taking you to a place that might be your next travel destination. With colonial streets, breezy beaches, art, culture and so much to offer, it's a city with all the right things you need in a vacation spot.
A City With Cultural Diversity
Sited in Southern Mexico, we are taking you to Oaxaca (pronounced Wah-ha-kah). A vibrant city with stunning rooftop pubs and restaurants, street art, old Spanish colonial churches, cobblestone streets, and lovely parks. Moreover, it is a mezcal (a Mexican beverage) production powerhouse and one of Mexico's culinary hotspots. Oaxaca and its surroundings have been home to the indigenous Zapotec and Mixtec people for thousands of years. Situated in a valley surrounded by rugged mountains, this place is the epitome of serenity.
Thanks to the numerous historical sites in the city and its surroundings, a UNESCO World Heritage Site, Oaxaca is now a major destination for cultural tourism. The ancient downtown of Oaxaca, which is focused around its main square, or Zócalo: the Plaza de Armas, is home to many of the city's most significant attractions.
Celebrating Culture and Tradition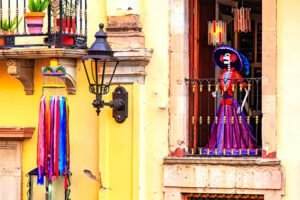 You might never want to leave the city with all its museums, art galleries, and exciting nightlife, but believe us when we say day trips improve the whole experience. Visit the historic Zapotec remains of Monte Albán for a taste of classic Oaxaca, or travel south to artisan workshops for a close-up look at how famous crafts like alebrijes are created.
Oaxaca during the Day of the Dead celebrations. The festival, which is more often known as the Dia de los Muertos celebration, really combines elements of pre-Hispanic culture with the Christian calendar with All Saints' Day. It has grown to be one of Mexico's most popular festivals and was even included on the UNESCO list of Intangible Cultural Treasures. Another festival you may attend is the Guelaguestza, a cultural occasion that honours and displays the city's heritage of dance and music.
Paradisical for Beach Lovers
If you're a beach baby, you're in luck. Oaxaca, being a coastal city has plenty of beach options that will get satisfy all your needs and wants when on vacation. From surfing to swimming, the city got you in every manner. There are numerous beach communities for every kind of traveller along the Oaxacan Coast, also known as the Emerald Coast. Puerto Escondido is the most well- known beach town in Oaxaca. You already know why this hamlet on the Oaxacan coast is so well- known if you've seen pictures of the nicest beaches in Puerto Escondido.
Heavenly Food
You've come to the correct place since we're about to highlight Oaxaca's most iconic feature, its delectable cuisine. Oaxaca City is frequently referred to as the 'Foodie Capital' of Mexico since authentic Oaxacan cuisine is unique and very regional. In fact, in 2010, UNESCO designated all traditional Mexican dishes as a part of the Intangible Cultural Heritage of Mankind. Isn't that fascinating? Oaxacan restaurants are run by some of Mexico's top chefs, who will serve you the best in town food that is finger –licking good.