Good News for MS Dhoni aka Thala's fans that their favourite cricketer will come back for another year in IPL. Read out  know more.
Will this be the last IPL tournament of MS Dhoni? It's the most asked question throughout the IPL season. So, we are here to give you some good news, especially for Mahians (Dhoni's fan club). The nation's most-favourite cricketer Mahendra Singh Dhoni aka Mahi is not going anywhere. IPL 2023 is not his last tournament.  Yes, you heard it right. He will come back for another year to play IPL 2024.
Our Captian Cool said in his interview that it's the best time for him to announce his retirement from IPL but the harder thing is to work hard for another nine months and try to play another season. The immense love he got from his fans, makes him emotional. He is very grateful for that and will play IPL 2024. This gonna be a gift from his side to his fans and to the whole nation.
CSK won IPL 2023
Whether you're a supporter of RCB, Gujarat Titans, Mumbai Indians, Delhi Capitals or any other teams but you can't deny that fact, everyone love Dhoni. This man not only had a remarkable cricket career but his humbleness, his gaming techniques, and his calm nature touched everyone's heart and made him India's most loved cricketer of all time. The 41-year player is the first Indian cricketer who won three major ICC (International Cricket Council) trophies under his captaincy and made India proud.
Ravindra Jadeja came, play, and conquered
The previous day, The former Indian captain led CSK (Chennai Super Kings) marked the fifth remarkable IPL victory against Hardik Pandya-led Gujarat Titans. The match was supposed to happen on Sunday but due to bad weather conditions, it's postponed on Monday. We must say, it was a nail-biting final. Gujarat Titans set the chasing score of 214, which seems hard to chase.
Every CSKians were worried when Dhoni was out on 1 ball with 0 runs. However, Ravindra Jadeja tries to alive everyone's hope. He played the last two balls when Chennai Super Kings need 10 runs on 2 balls.
One of the iconic moments of the match was Dhoni took Shubhman Gill's wicket. His reaction time was 0.1 sec. In a blink of an eye, he changed the game that's why he is called one of the best wicketkeepers of the Indian cricket team.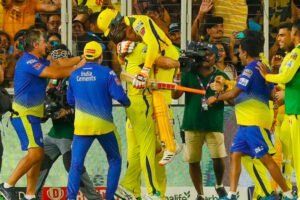 It was the best moment that no one will ever forget
Ravindra Jadeja came, play, and conquered. He hit one six and one four at the last two balls and made sure the CSK victory for the fifth. It was the best moment that no one will ever forget when MS Dhoni uplifts Ravindra Jadeja and got emotional. This surely makes everyone's heart melt. Then, the entire team hugged him and celebrate this victory.
After that, Dhoni hugged Hardik Pandya and shakes hands with every other player. Dhoni let Ambati Raydu and Ravindra Jadeja uplift the trophy. During Ravindra Jadeja's interview, "he dedicated the IPL trophy to Dhoni". Jadeja also shares the picture with Dhoni holding the trophy. And with his wife.