If you want to transform into a stunning desi Barbie, you can take notes from the Bollywood beauties. Read on!
Bollywood divas have always been trendsetters when it comes to fashion and style. They effortlessly weave together tradition and glamour, and nothing exemplifies this better than the timeless Indian saree. Their graceful appearances in sarees serve as a reminder of the rich heritage of Indian fashion and its ability to blend seamlessly with contemporary trends. A symbol of grace, beauty, and elegance, the saree has been reinvented by these leading ladies, making it an indispensable part of their wardrobe. 
As these leading ladies continue to inspire millions with their stunning saree looks, the allure of this six-yard wonder will remain eternal, keeping the essence of Indian tradition alive in the world of glamour and style. In this article, we will explore how these Bollywood queens channel their inner glamorous Desi Barbie in saree, each in their unique and enchanting way.
From sequin-studded elegance to Banarasi royalty, each diva brings her unique persona to the traditional attire, proving that sarees are indeed timeless and versatile.
Katrina Kaif: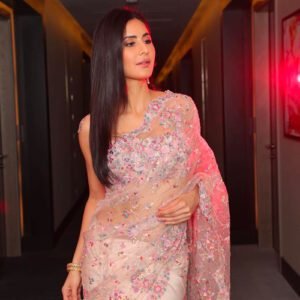 Katrina Kaif is known for her ethereal beauty and sizzling performances. She consistently charmed audiences on and off-screen. When it comes to draping a saree, Katrina chooses styles that highlight her sensuous curves and complement her flawless figure. A prime example of this is her appearance in a pink sequin saree that left fans awestruck.
The blush pink sequin saree gracefully clung to her silhouette, adding a touch of shimmer to her overall look. The blouse was artfully tailored, revealing her toned midriff, and adorned with intricate sequin work. Katrina opted for minimal jewellery, letting the saree be the star of her outfit. Her makeup was understated, with a focus on accentuating her eyes and a hint of rosy blush to match the saree's colour.
Katrina Kaif's portrayal of the glamorous Desi Barbie in this pink sequin saree exemplifies how elegance and allure can be effortlessly combined in traditional attire.
Dia Mirza: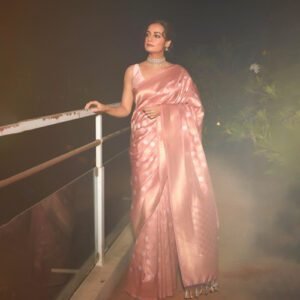 Dia Mirza, known for her philanthropic work and impeccable acting skills, exudes a charming aura that perfectly complements her love for timeless Banarasi sarees. In a public appearance, Dia wowed the audience when she graced the event in a peach-pink Banarasi saree.
The intricacy of the Banarasi weave added a touch of royalty to her look. Dia's choice of a peach-pink hue accentuated her radiant complexion, making her look like a vision of grace and sophistication. The saree was adorned with delicate zari work and motifs that enhanced the overall opulence of her attire.
Dia Mirza paired her saree with a contrasting embroidered blouse, subtly revealing her refined taste in traditional fashion. Her choice of accessories included statement jhumkas and a choker necklace, complementing her elegant hairstyle. Dia's makeup was soft, focusing on highlighting her natural beauty and keeping the spotlight on her resplendent saree.
Alia Bhatt: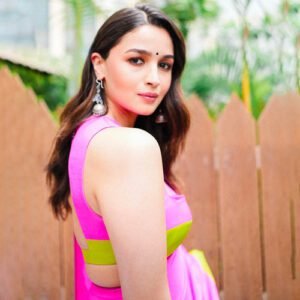 Alia Bhatt, the embodiment of youthful charm and exuberance, has also embraced the versatility of sarees in her way. Alia's unique style is often characterized by a peppy twist on traditional wear, as seen in her peppy pink chiffon saree appearance.
The lightweight chiffon saree allowed for easy movement, making it ideal for her bubbly personality. The saree was complemented by a chic and contrasting sleeveless blouse, showing off her toned arms.
Alia Bhatt's love for experimentation extended to her accessories as well. She chose trendy, oversized hoop earrings and stackable bracelets that added a touch of glam to her vibrant look. Her makeup was fresh and youthful, with a focus on rosy hues to match the saree's colour palette and black bindi.