Actress Juhi Parmar has written an open letter against the blockbuster Hollywood film Barbie and wrote that the movie is not for children. Read on!
A well-known TV actor Juhi Parmar who is famous for her character Kumkum from the famous TV show "Kumkum – ek pyara sa bandhan" pens down a 4-page long letter about the recently released Hollywood movie Barbie. Took to her Instagram account, and she post this open letter. In that letter, the actress is outraged about her experience. The actress said that she went to watch the Ryan Gosling and Margot Robbie starrer Barbie movie with her 10-year-old daughter. Within ten to fifteen minutes, Juhi left the theatre with her daughter. She's shocked by the movie's sexual connotations and inappropriate language usage.
She wrote that as a concerned parent. First, she owns up that this was her mistake to not research properly about the film. Barbie movie is for PG-13. After that she wrote, a lot of her audience is not going to be happy with this post but she share this note as a concerned parent. She further added the movie is not for children, it has sexual connotations and inappropriate language which is the last thing to see the children. The movie is about a functioning adult and she even asked a question to the makers "Why did you break the perfect illusion of Barbie?". Juhi Parmar described her as a "concerned and disappointed parent" in the letter's conclusion.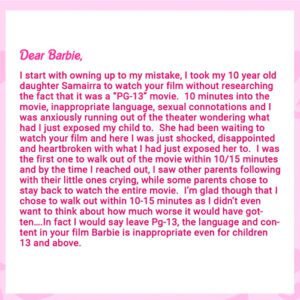 After posting this letter, the actress faced backlash from netizens. They slammed the actress for not doing her research properly and giving an opinion about the film on the basis of a 10-15-minute watch. One follower said "You failed to give a suitable example of what is objectionable in the film. The makers of Barbie chose to represent her as an actual woman rather than merely the ideal that you have been telling your children, they continued, and that is the only reason you are upset. The film performs well at the box office and becomes a blockbuster. Barbie clashed with Christopher Nolan's Oppenheimer and beat Oppenheimer. However, in India, Oppenheimer led the race. Barbie movie hit the theatre on 21 July 2023.