Ever since the announcement of Greta Gerwig's Barbie movie came to light, it's been the hottest news around the internet.
You wouldn't be mistaken for thinking that Margot Robbie was born to play Barbie. The Australian actress is taking on the lead role in Greta Gerwig's live-action film, in which the famous Mattel doll goes on a journey of self-discovery as she enters the real world, leaving her fantasy land and friends behind. Expect humour, high jinks and, of course, plenty of pink.
Robbie is joined by an all-star cast, with Ryan Gosling playing Barbie's love interest Ken, alongside many other famous faces featuring in the film – including Dua Lipa, Emma Mackey, Ncuti Gatwa, America Ferrera, Issa Rae and Will Ferrell, to name but a few.
Celebrities are not unusual to pay tribute to the project they're promoting regarding red-carpet dressing, so you can't expect anything less than a Barbie-worthy press tour wardrobe from Robbie. She has been hitting the red carpet in style for the Barbie movie—in theatres July 21.
The marketing rollout for Greta Gerwig's Barbie movie has been impressive, ubiquitous, and extremely pink, spanning countless brand collaborations and in-person activations, like the life-size pink Barbie Dream House. By glamorously replicating outfits donned by various Barbie dolls over the years, Margot Robbie is dressing in everything from an outfit inspired by the original Barbie to a more meta-approach: dressing as a doll. Help yourself and brace yourself with these swoon-worthy Looks!
Vivienne Westwood Couture
For the European Barbie premiere held in London, Margot Robbie chose to wear a Vivienne Westwood Couture draped corset gown, modelled on the "Enchanted Evening" doll from 1990. The corseted dress featured a draped side train – it was crafted in blush pink satin and embroidered white tulle stole – and was accessorised with ivory opera gloves, a pearl choker and a rose brooch. Parts of this 1960 original doll are considered "very rare," including the necklace that Robbie matched in her pink carpet look.
Valentino
Margot Robbie wore a custom polka-dot Valentino dress for the Los Angeles photocall of Barbie, at the Four Seasons Hotel. To recreate this flirty pink polka dot outfit, Andrew Mukamal turned to the archives of Valentino, taking inspiration from a maroon polka dot halter neck midi dress from the fashion house's Spring/Summer 1993 collection. For Robbie's look, Valentino updated the design in a bright pink and white polka dot fabric and shortened the hem to be a mini dress, which Mukamal paired with a yellow Valentino rockstud purse, white Manolo Blahnik pumps, and a set of Assael pearl earrings and matching bracelet. According to her stylist, the outfit – even down to the yellow handbag – was a nod to a look worn by the original doll. And, her white Manolo Blahnik heels and pearl Assael jewellery provided the finishing touches.
Balmain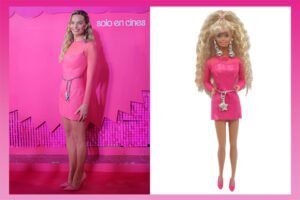 The actress wore a neon pink corseted Balmain mini dress with silver statement earrings and a matching chain belt, to attend the Mexico premiere. Robbie recreated this 1992 Barbie look at the Mexico City Barbie premiere, where she wore a pink minidress and large, dangly silver earrings—the signature element of Earring Magic Barbie. Mattel released Earring Magic Ken, a doll with a mesh shirt and pleather jacket that became important in LGBTQ culture in 1993.
Herve? Le?ger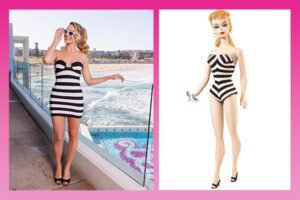 Margot Robbie's stylist Andrew Mukamal recreated another iconic look from Barbie's wardrobe – a black and white swimsuit worn by the original doll in 1959. The 2023 update featured a striped dress by Herve? Le?ger worn with Jacques Marie Mage sunglasses, Spinelli Kilcollin jewellery and open-toe black Manolo Blahnik heels. The doll released in March 1959 wore a black-and-white zebra style swimsuit, had a signature topknot ponytail, and sunglasses; from which the look inspired Robbie's outfit at Bondi Beach in Australia, and is also featured in the movie trailer.
Versace
The actress wore a look from Versace at the premiere – a shimmering bodice and tulle skirt – also based on one of the doll's original designs. She wore her hair in the classic Barbie style of loose blonde waves, which fell perfectly over one shoulder.
Versace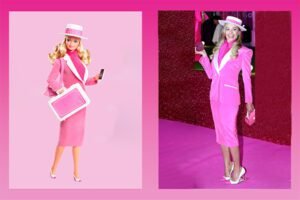 For the Barbie premiere in Seoul, Robbie turned to another Versace, a favourite brand in her press tour wardrobe. Based on an outfit worn by the original Barbie doll, this look featured a pink and white skirt suit with a matching boater hat, pointed pumps, a mini bag and a glittery pink phone. Robbie channelled this 1985 Barbie—who was supposed to represent the "ultimate career woman"—at the South Korea premiere on July 3. This doll came with a soft pink power suit that transformed into a shirred skirt nighttime look, a hat, briefcase and purse, calculator, and two pairs of shoes, and was the collection's first day-to-night outfit.
Emilio Pucci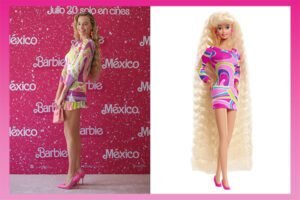 Margot Robbie's 'Totally Hair' Barbie look, based on the 1992 doll was just that; the actress wore her hair in impressive long waves, with an Emilio Pucci printed dress, pink Manolo Blahnik heels, a Chanel bag and Taffin jewellery. Robbie rocked a swirl-covered minidress to recreate the look of Barbie's best-selling doll ever, the Totally Hair Barbie released in 1992; but Robbie didn't recreate the most notable element of the original doll: Wavy hair that went to her ankles.
Prada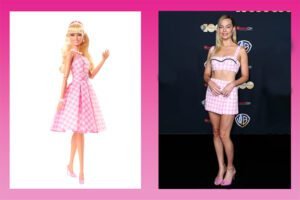 During CinemaCon, Robbie gave us our first glimpse into her Barbie promo wardrobe, in a gingham two-piece by Prada. She accessorised in a very Barbie way with bright pink Christian Louboutin heels and Jessica McCormack heart earrings.
Vintage Moschino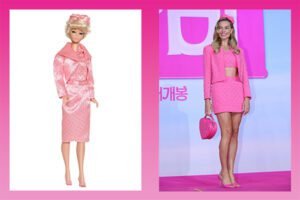 Margot Robbie kept up her vintage style streak, wearing a Moschino skirt suit from the brand's spring/summer 2015 collection to the film's press conference in Seoul. In true Barbie style, she kept her accessories perfectly matching, with a coordinating heart-shaped bag and pink Manolo Blahnik heels.
Schiaparelli Haute Couture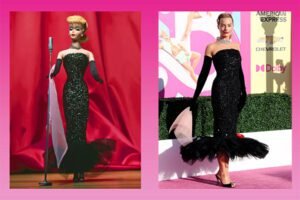 Perhaps Margot Robbie's most glamorous Barbie looks yet – a black shimmering custom Schiaparelli Haute Couture gown. For the Los Angeles premiere of the highly-anticipated film, the actress wore a design inspired by the doll's 'Solo in The Spotlight' look from 1960. It featured a dramatic tulle and sequin, off-the-shoulder dress with a red rose, matching opera gloves and a sheer handkerchief. She finished her red-carpet look with a Lorraine Schwartz diamond choker necklace, bold red lip and a sleek updo.
Vintage Versace
Yet another vintage Versace moment for the actress, who stepped out on the pink carpet in a blush chainmail Versace mini-dress, while attending a Barbie party in Sydney. Happy Birthday Barbie is a special occasion doll whose outfit Robbie recreated at a Barbie celebration party in Sydney, Australia. It mimicked the original Versace that included a metallic pink bodice and glittery diamond-inspired overlay on the skirt; the doll also came with strappy silver heels, a matching choker, and a pretty silvery gift.