Carol Sainz won the British Grand Prix at Silverstone, here are shocking events that took place in F1 British Grand Prix that you should be updated upon.
Scuderia Ferrari driver at the competing stage of Formula 1, is driven by Carol Sainz. He is a legendary sportsman who has been part of various British Grand Prix rounds and he is a Spanish racing driver who finally took the trophy of the 2022, British Grand Prix Game. This Spanish driver raced in Formula BMW Europe with the Euro-international team in 2010. The Spanish driver won first position at Formula Renault Northern European cup.
This Grand Prix Motor Race game, also recognized as the British Grand Prix, is organized by the Royal Automobile club in the United Kingdom. British Grand Prix first held in 1926, it continued to hold the FIA Formula one world championship every year from 1950. But this year specifically, BRDC is held for the first time at Silverstone, this Grand Prix Game has shaken the audience with these dangerous track invasions and crashes which made its highlight in the 2022 game.
Formula 1 of season 2022, had teams such as Red Bull Racing, Ferrari, Mercedes, McLaren, Alfa Romeo Racing, Alpine F1 Team, Alphatauri, Haas F1 Team, Aston Martin F1 team, Haas F1 Team, Williams. One of the teams that got highlighted were Ferrari (Charles Leclerc, Carlos Sainz Jr) and till the end Carol Sainz (Ferrari) won the race flourishingly.
Carol Sainz (Ferrari) won first position in British Grand Prix at Silverstone.
Even Carlos Sainz posted and celebrated his victory, he mentions winning his first F1 GP with Ferrari and this crowd at Silverstone was spectacular! It has been a challenging mentally, tough race with slipping, saving gas, struggles, safety of car but they got it done. Tomorrow they will rock Austria and give its entire focus to the game. Their fans were overjoyed with this dramatic victory and commented "Super proud Vamoos!! Smooth operator.
Another British Grand Prix highlight is all over the internet, Chinese F1 driver Zhou Guanyu survives this horror British GP crash, which left the audience jaw dropped for a moment.
This crashing event at Silverstone, George Russell described his collision with Zhou Guanyu at the beginning of British GP, Russell got qualified in eighth and started his race on hard tyres with the intention of fighting for the podium till the end of Grand Prix. "It looked as a great opportunity to fight for the podium today, it would be truly difficult on Lap 1 and turnout, it was extremely difficult. He could not get any temperatures on the tyres on them formation lap, I got swamped by all cars and got touched from side of Zhou and we saw the rest"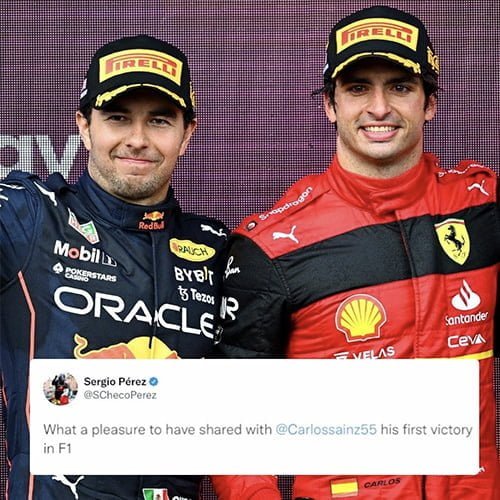 British Grand Prix, race game updates.
During the British Grand Prix race game, after the dangerous crash Russell was caught on the camera running towards Zhou's Alfa he came to aid. To be exact, the Chinese driver pulled out from his car and was lying on its side.
Though the crash looked threatening and scary for the entire participant and seen as game winning strategy, Russell clarified one of directors in the Grand Prix Driver association made a decision to run and try to help Zhou and added he would retake the decision at the start in his Mercedes.