Couples Who Are Looking To Introduce Sex Toys, For All The Tingly, Non-Stop, Wet Fun You Can Think Of. We Have A Must-Pack For Any Steamy Weekend Getaway, Or Even Just Handy In Your Nightstand.
Couple sex toys and vibrators are great additions to the bedroom: a way to explore new sensations together and put the adventure back into your sex life. But it can be hard to know which sex toys to use with a partner. There are plenty of questions to consider, from what turns you both on, to what kind of stimulation and pleasure you each like best.
Investing in one of the best sex toys for couples will guarantee heightened intimacy between yourself and your partner, whether you're newly off–the- market or you locked it down with a ring millennia ago.
With that in mind, it can really help to do your research and read up on all the different couple sex toys out there. And *that's* where this handy list comes in, giving you the lowdown on our top sex toys to use with a partner: from clit and wand vibrators, to butt plugs and lubricants we got everything you need and you can thank us later.
Suction Toy
This suction toy delivers some spine-tingling clitoral stimulation and has all our practical requirements ticked off: whisper – quiet, fully-waterproof and USB- rechargeable. Ideal for solo play or to give a partnered session a fun twist. This beloved suction toy sends waves of pleasure through your clit, mimicking the sensation of oral sex with knee- weakening accuracy. It's basically a vibrator that wraps around the clitoris and uses pulsing air vibrations to replicate the feeling of oral sex.
Cock Ring
Searching for a couple's toy that'll kick the intensity up a notch? Cock ring delivers all the goods. It's not just durable (which comes in handy!) but also it feels great on the skin. It's perfect for anyone looking to work their way up to the most intense and prolonged orgasm possible. With different settings and patterns, you're able to work out what turns on both yourself and your partner, leading to lots of pleasure all-round. They slip it down to the end of their penis and when you turn it on, the motors will direct vibrations to their shaft. For people with vulvas, you can get in position so your clitoris also benefits from the vibrations (our advice: get on top!)
Wand Vibrator
Wand vibrators are perfect toys for couples to share: you can take turns using the wand to stimulate your clitoris and other areas of your vulva, and your partner can also use it on you or turn it on themselves. Such vibrators allow sensual, full-body massage during foreplay, then targeted vibration during sex. Wands can be turned up to be super powerful, if that's what revs your engine. They're also sturdy, and can offer lots of fun for you and your partner to discover. If you've got a taste for the finer things in life, it's one for you.
Butt Plug
This teensy tiny butt plug is a good intro to anal stimulation. No matter who you're having sex with, as long as everyone's up for it, anal play can feel great. If you're interested, here's a guide we made earlier delving into how you can approach anal play for the first time. If they have a prostate, it might be good to ask if they want to try for a P-spot orgasm. Anal toys, designed to allow you to work through different widths and lengths of penetrative toys and get used to different forms of stimulation; it normally takes about a week of practice to build up to a bigger size of toy from a smaller one.
Glass Dildo
Glass dildos are a fun and surprisingly chic accessory to add into your sex toy repertoire. This one is double-ended so can be inserted by you and a partner simultaneously, and is curved at each end for G-spot or P-spot stimulation. It's designed to retain heat or cold in, so you can use to experiment with temperature play.
Spanking Paddle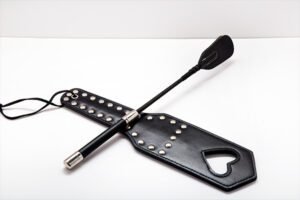 One of the best BDSM toys you can introduce into Le Boudoir if you're not sure where to get started: a spanking paddle. For anybody who likes to get a little kinky in the bedroom, spanking is a great beginner's activity. A spanking paddle can be a great accessory to spice things up further. These are used for discipline during dominant and submissive sex play and are designed to give a sharp sting of pain on the butt or thighs of the submissive partner when they "disobey.