All set for Chaitra Navratri fast? Here we tell you about some fasting recipes which will maintain your energy level and keep you full throughout the day.
India is a "land of festivals", where each day is some kind of festival. Here are more festivals celebrated than in any other nation. A while ago, Holi passed and we celebrated this festival of colours with full enthusiasm and love and ate so many things. Now, Chaitra Navratri is knocking at the door. This auspicious festival will begin from 22 March to 30 March. 
This festival is marked as the beginning of the Hindu New year, devotees fast for 9 days and worship goddess Durga's 9 incarnations. During this time devotees avoid consuming alcohol, grains and non-vegetarian food. 
So, it is necessary to drink plenty of water to keep yourself hydrated and consume healthy and nutritious food which maintains your energy level during this period and keeps you full to survive the day. Here, we tell you about eight recipes which will tackle your hunger and satiate your taste palate.
Fruit Salad
How is this possible we talked about healthy items and did not mention fruit salad. You can have fruit salad while fasting, which detoxifies your body in the most natural manner. Consume them as a snack or make fruit chaat. You can also have a fruit salad with yoghurt, which is a good source of protein, and helps to maintain your energy level throughout the day.
Kuttu Atta Dosa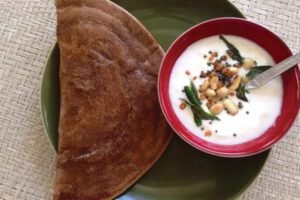 We all love South Indian food, don't we? Especially dosa, what if we tell you that you can have dosa while fasting? Yes, you can have Kuttu atta dosa, which is easy to make in minimum oil. Kuttu atta will make your dosa crispy. You can add some paneer and boiled potato as a filling. And have this crispy dosa with coconut and mint chutney.
Makhana Kheer
Makhana Kheer or Fox nuts are a perfect dessert to satisfy your sweet cravings. Makhana kheer is also a low-calorie dessert and has a great source of energy. It is very easy to make, just cut some makhanas and boil with milk for 15-20 mins, add some sugar or jaggery, cardamom powder and some nuts (almonds, pistachios, and cashew) and let it cook until the mixture thickens.
Farali Idli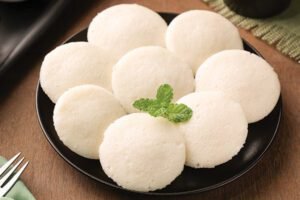 Farali Idli or Samvat rice Idli is a simple and tasty cuisine while fasting. This is a simple South Indian snack which is made with samvat rice and sabudana and you can also use peanuts as a filling to enhance the flavour. Serve it with coconut or mint chutney. It is a terrific choice but you must try it.
Coconut Ladoos
You must try this gluten-free recipe for Navratri. These lip-smacking ladoos will melt in your mouth in no time and will satiate your sweet cravings. This traditional sweet is primarily made with grated coconut. Take a tablespoon of ghee in a pan, add grated coconut into it and saute it for 3-4 mins. Then add condensed milk, and cardamom powder and mix it well. Cook it until it gets thick. Then allow it to cool. Once the mixture gets cool, rub some ghee in your palm and take the medium size of mixture and form ladoos.
Almond Milkshake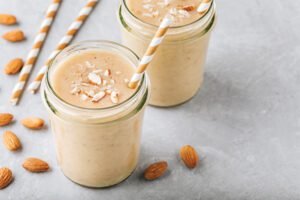 Almonds are rich in protein and healthy fats. It's a very easy and delicious breakfast option during this festival time. Soak almonds in water at night or for at least 30 mins. Then peel it off and blend in a food processor with milk, sugar or jaggery and cardamom powder.
Sabudana Kheer
This is the most loved Indian dessert that you can have on any occasion. This is super easy to make. Soaked sago pearls or sabudana in water for 30 mins. Later add sabudana in milk with sugar or jaggery and cardamom powder. Cook this mixture until it thickens. Then, garnish with dry fruits and enjoy this gluten-free dessert.
Sama chawal Dhokla
Sama chawal dhokla is very easy to make with simple ingredients without using ENO. To make this lip-smacking fasting delicacy, you need sama chawal, rock salt, chilli paste and yoghurt. First, dry roast sama rice, and transfer it into a bowl. Add rock salt or sendha namak, yoghurt and chilli paste to it. Then, grease the steamer with ghee and transfer this batter to it. Let it cook and lastly, for tadka, heat the ghee in a pan, sprinkle some cumin seeds, curry leaves and red pepper, and pour over the fluffy dhokla. And enjoy it.