The teaser of the Swatantrya Veer Savarkar is out on the 140th birth anniversary of the Freedom fighter Veer Savarkar. Check out to know more.
The official teaser of actor Randeep Hooda starrer "Swatantrya Veer Savarkar" was released on 28 May on the occasion of Veer Savarkar's 140th birth anniversary. The context of the movie already makes it special in itself but there are also some other things which make it worth watching such as Randeep Hooda's directorial debut with this movie, he is also co-writer of the movie along with Utkarsh Naithani and to completely gets into his character the actor lost 26kgs.
Swatantrya Veer Savarkar is co-produced by Anand Pandit, Yogesh Rahar, Sandeep Singh, and Sam Khan. The teaser of the movie shows us the various avatars of Randeep. He dons the role of freedom fighter Veer Savarkar in the movie. Besides Randeep Hooda, the film also features Amit Sial and Ankita Lokhande.
The 73-second teaser started with the monologue of Randeep Hooda (Veer Savarkar) saying "The struggle for freedom lasted for 90 years, but in reality, it was only fought by some people. The rest were only hungry for Power". Then the video move forward and it says, "Mahatma Gandhi wasn't a bad person, but India might have gained independence 35 years earlier, if he hadn't insisted on upholding his non-violence ideologies."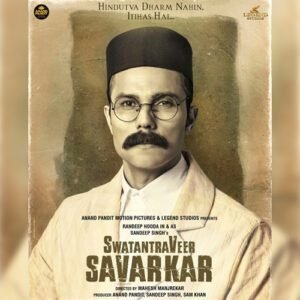 At the start of the video, Randeep was seen walking in the Jail premises. In the entire video, Randeep was seen in different avatars, and it also gives us a glimpse of the Veer Savarkar's struggle during the freedom fight and his Hindutva ideologies. Veer Savarkar inspired many of the freedom fighters such as Bhagat Singh, Khudiram Bose, Subhas Chandra Bose, and the armed revolution.
At the video's end, it says "Anything may be expensive and golden but not at the cost of someone other's freedom" and it left a question in the end, "Who killed his (Veer Savarkar) story?"
At the launch of the teaser, the actor said "Veer Savarkar had a remarkable life, and as I learned more about him while doing research for the movie, the more I've grown to respect him". So, it's my pleasure to share a sneak peek of the film with the audience on his 140th birth anniversary". The actor stated, "The movie is almost finished and is slated to hit the theatres this year."