Mahendra Singh Dhoni is probably the greatest captain of all-time and he has excelled in almost all aspects of the game. His cool and calm behaviour on the field both while fielding and batting is what makes him the absolute best. 
He has played some crucial knocks for India and has helped his team win matches on a regular basis. India, after a long period of time, had a wicketkeeper batsman who they could rely upon. He is known for stitching partnerships with the middle order batsman as well as with the lower order and digs India out of trouble almost every time. To honour him on his birthday, here are 5 significant MSD knocks.
Rishabh Pant was present for the birthday party of MS Dhoni as seen in pictures posted by Sakshi, Dhoni's wife.
5)  134 vs England (2017)
When Virat Kohli led the limited overs team for the first time in this series in 2017, the Indian middle order was in doubt. There were several questions, including whether Dhoni is still suitable for ODIs or whether alternatives should be taken into account. Dhoni responded with his bat, as he usually did, when his side needed him the most. It was up to him and Yuvraj to lead the side to a respectable score on a batting surface after India lost three quick wickets. Dhoni scored 134 while Yuvraj made 150. For the first time ever, Nos. 4 and 5 combined for more than 120 points in an inning. They helped India to a huge total of 381, and India won the game by a score of 15 runs and the series with one game remaining.
This knock reminded everyone of the time, when Dhoni and Yuvraj used to smash bowlers for fun during their early days
4) 224 vs Australia (2013)
Dhoni's test performances often go under the radar because of his achievements in the limited overs set-up. Australia won the toss and chose to bat and scored 380 runs in their first innings, they took out the Indian openers for mere 12 runs when India came out to bat. When Captain Cool stepped out to bat with Virat Kohli, India had a score of 196/4. India amassed 572 runs and a lead of 192 runs thanks to Dhoni's 224. He made batting look so easy on a pitch where even the best were struggling for runs.  Ultimately, India defeated the opposition by eight wickets, and Dhoni was named Man of the Match.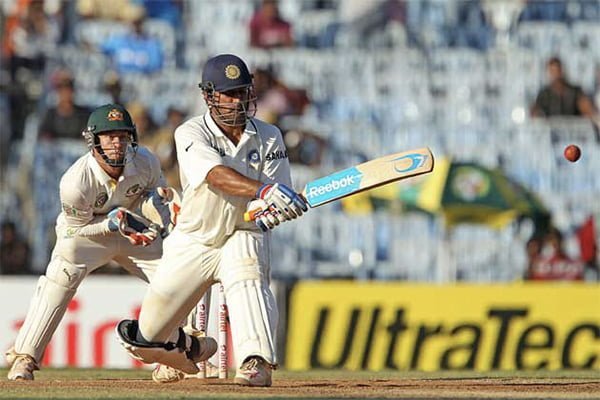 This was an important innings under pressure, but the coolest man in this game, just played his shots and held his wicket till the end.
3) 113* vs Pakistan (2012)
Mahendra Singh Dhoni was accustomed to playing the role of keeping India out of difficulties at that time. This time, the circumstances and the game were quite different, and the degree of intensity was much higher. At 29-5, India was in trouble against a Pakistan team that was desperate to beat its longtime foes. After that, they scored a total of 227-6 in 50 overs, with MS Dhoni leading the way with 113 not out, his eighth ODI century and second against Pakistan in ODIs. Ravichandran Ashwin hit an unbeaten 31 off 39 balls, including two fours, and Suresh Raina scored 43 off 88 balls, including two fours. MS Dhoni was chosen player of the match for his outstanding batting display in which he scored an unbroken 113 runs off 132 balls, including five fours and a six, to win the match.
Nobody would have thought that India can reach a total of 230 after losing half the side for a mere 29 runs
2) 183* vs Srilanka (2005)
After scoring a fantastic hundred against India's bitter rivals,Pakistan, Dhoni continued his impressive form as India faced an experienced Sri Lankan team. Sri Lanka had scored a respectable 298 runs, and India had already lost Sachin in the opening over. Dhoni gingerly handled his first six to seven balls before launching into his assault and taking on all of the Sri Lankan bowlers. He quickly reached his hundred and, had the Srilankan total been somewhat greater, may have reached 200. India reached the mark with 23 deliveries and 6 wickets remaining thanks in large part to Dhoni, who was unbeaten on 183 from 145 balls and struck 15 fours and 10 sixes.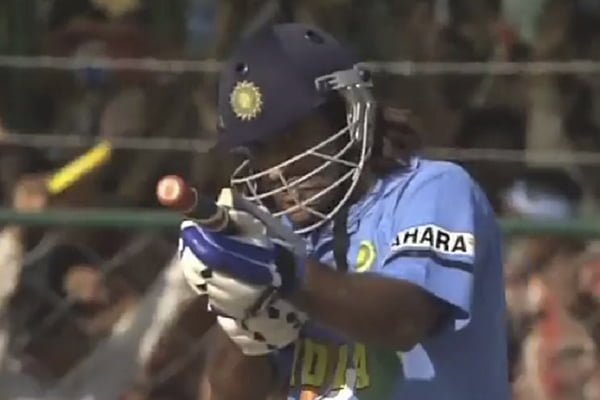 This innings was made my more memorable because of the gunshot celebration. We hardly ever see Dhoni celebrating milestones but this one was special
1) 91* vs SriLanka (2011)
I would recommend you should watch some cricket if you don't know which innings this is.
When India won their second World Cup in 2011, he played one of the most memorable games of his life, batting 91 not out off 78 balls and helping India make history. Hosts India entered the 2011 World Cup as the favourites, lost just once, and advanced to the final game against Sri Lanka. After India was reduced to 114 for 3 in 21.4 overs chasing a challenging 275 for win, an out-of-form Dhoni, who had scores of 31, 34, 19*, 12*, 22, 7, and 25, promoted himself ahead of an in-form Yuvraj Singh. Dhoni led India to their second World Cup victory by putting together a game-winning 109-run partnership for the fourth wicket with Gautam Gambhir (97), and then an undefeated 54-run stand with Yuvraj. 
"Dhoni, finishes it off in style, India lifts the World Cup after 28 years"
Dhoni was the reason 1.5 billion people smiled that day, and since then, he has gained fame as a hero in our nation. He has given all for India in almost every game he has played for the nation, and he has won us countless matches. He was without a doubt the best Indian wicket-keeper batsman in history; these were just a few of the memorable knocks he produced.