Let's try some lip-smacking snacks during this monsoon season and enjoy it to the fullest.
As the Monsoon season arrived, it creates a cosy ambience at home and the pitter-patter of raindrops outside your windows sets the perfect mood for indulging in some lip-smacking snacks which makes your day better. The monsoon season brings a craving for flavourful and comforting treats. Whether you're craving for something savoury or spicy, we've got you covered with these flavoursome snacks that are sure to tickle your taste buds and make your rainy season even more enjoyable.
Let's check out these scrumptious snacks:
Cheese Masala Toast Sandwich
One of the much-loved street snacks for Mumbaikers
A cheese masala toast sandwich is one of the much-loved street snacks for Mumbaikers. This quick & easy snack combines the goodness of toasted bread, tangy masala fillings, and melted cheese. Served this sandwich with green chutney, which tantalizes your taste buds. To make this snack, you need some boiled potatoes and mashed them. Take coriander leaves, mint leaves, green chillies, and chaat masala in a grinder jar and also add some salt in it. Grind it well. 
Then, heat the oil in a pan. later, add mustard seeds, add cumin seeds, and asafoetida into it and keep the flame low. Then, add finely chopped green chillies, turmeric, curry leaves, mashed potatoes and salt into it. Saute it for 2 minutes. Let it cool down. Side by side cut tomatoes and onion for filling.
Spread butter evenly on bread on one slice and chutney on the other slice. Spread potato masala on the bread. Place some slices of tomatoes and onion and other veggies as per your mood. Sprinkle some roasted cumin powder, chaat masala, and cheddar cheese on it. Place it in a grill or preheated pan till it is crisp and golden. Remove it from the pan and serve it with green chutney.
Moong Dal Fritters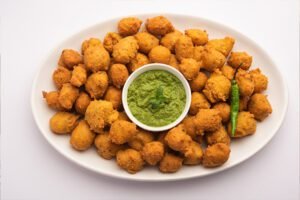 It's one of the many variants of fritters
Moong dal fritters also known as moong dal vada or moong dal bhajia. It's a tasty and most loved snack in an Indian family. It's one of the many variants of fritters, which makes our monsoon season even better and more enjoyable. To make this, first, rinse 1 cup of moong dal a few times and soak it in water for 3-4 hours or overnight. Drain the water and put the soaked lentil in a blender, add roughly chopped green chillies, chopped ginger, and asafoetida. Then, add half a cup of water and blend it to a smooth consistency and add coarsely crushed black pepper to moong dal batter. Add salt and stir the batter for a few minutes. 
Then, heat the oil in a pan for deep frying. Once, the oil is hot, drop a spoonful of the batter into it. Fry less or more fritters at the same time depending on the size of the pan. Fry it till golden and crisp. Once the fritters turn golden brown, remove it from the pan and place them into paper napkins to remove the extra oil. Serve this snack with Pudina Chutney and masala chai (Tea).
Poha Cutlet
This vegan snack is quick & easy to make and loved by everyone
For parties or gatherings, Poha cutlets or tikkis are the real crowd-pleasers. This vegan snack is quick & easy to make and loved by everyone. To make Poha Cutlet, you need thick flattened rice (Poha), boiled potatoes, boiled peas or beans, ginger-garlic paste, coriander, and onions. First, rinse 1 cup of poha twice and let it soak in the water for 3-4 minutes. Then, with the help of a strainer, drain all the water. Then, mash the boiled potatoes and add boiled peas, chopped carrots, finely chopped onions, finely coriander leaves, and ginger-garlic paste into it. After that, add drained poha into it.
Now, add spices (turmeric powder, red chilli powder, mango powder, garam masala powder, and salt as per taste). Mix everything well and shape it into small tikkis or cutlets. Heat the oil in a pan and place the tikkis in a pan. When one side turns golden, turn it over with the help of the spatula. Flip them a couple of times. Do fry the tikkis on low-medium heat till it is crisp and golden brown. Place it in paper napkins to remove the excess oil and serve it with ketchup or coriander chutney or any other green chutney.