Modern Lifestyle Calls For Healthy Food Habits! So, What Are You Waiting For? January Is The Perfect Time For Beginning Veganism Food Trends. Read On To Know About Some Mouth-Watering Vegan Dishes!
Global crisis and lock-downs have necessitated us to rethink our food options. Health and well-being has become a priority, and there has been a significant rethinking of what people eat and how it affects the environment. Plant- based diets and veganism have progressed from food trend to a globally recognized lifestyle. As more people choose plant- based meals, the food industry is gradually introducing new innovations and options in the segment for people who prefer clean, plant-based food items. It is causing people to consume less meat and opt for vegan substitutes to live a healthier lifestyle. So, keep reading to find out what vegan food trends for 2023 you should be looking out for!
Lentil Bolognese
Rich and robust, this plant- based Lentil Bolognese is hearty, "meaty," and full of depth of flavour. You can toss it with your favourite pasta, or spoon it over creamy polenta- either way, this simple, nourishing vegan meal is one that your whole family will enjoy and will quickly become one of your go-to vegan meals! This meal is reminiscent of the Italian classic we all love. It is something that would hold up well with a glass of red wine, all the while staying plant-based. Bolognese is a good source of fibre as well as calcium and iron. It also contains higher levels of nutrients selenium, potassium and magnesium. This dish is appropriate for individuals with special dietary needs.
Roasted Cauliflower
A whole cauliflower is roasted in the oven until golden and tender. Seasoned with Za'atar and drizzled with tahini sauce it's a delight for the senses -bursting with Middle Eastern flavours. Easy and delicious, it serves perfectly! Aren't you excited for a healthy vegan side dish which is also low-carb and keto- friendly? Cauliflower has some perks like, having cancer-fighting power and being an excellent source of vitamins C and K. It is a good source of fiber, folate, and vitamin B6. It also acts as a heart-friendly vegetable thanks to a plant compound called sulforaphane.
Vegan Portobello Tacos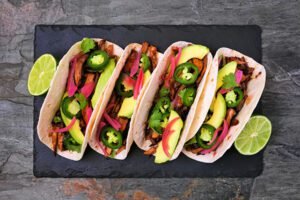 Let us describe Sheet-Pan, Portobello Tacos in 3 words – smoky, spicy and "meaty". The vegan tacos are sure to satisfy even the most die-hard meat-lovers! Being a satisfying plant-based meal, it is full of flavour! But secretly, it's all about the sauce! It's a vegan riff on ranch dressing made with cashews, roasted jalapeños, and cucumber, and it's so good that you'll have a hard time not eating it all with a spoon! However, resisting it for long isn't possible, as these tacos are a totally worthy add-on to your healthy lifestyle. Cool, creamy, spicy, and bright, it perfectly complements the tangy, meaty grilled mushrooms and fresh garnishes in this recipe. The combination is really terrific – if you try these tacos once, they'll have a permanent place in your hearts and apetite!
Vegan Shepherd's Pie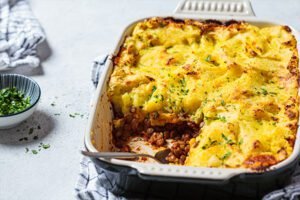 A cozy January recipe for vegans – Shepherd's Pie with mushrooms and root vegetables-topped with pillowy mashed potatoes. It is a delicious vegan main course dish, and sounds perfect for the holiday table. It is an easy way to get your comfort food fixed and stay healthy. Just the name inspires feelings of comfort, doesn't it? Made with lentils and plenty of fall-friendly vegetables, this savoury vegan version of Shepherd's Pie is a dinner your whole family will love to hop on! Sometimes also called cottage pie, this baked casserole dish comprises of a layer of mashed potatoes on top. Isn't it heavenly? Never fear though, this Vegan Shepherd's Pie, is as every bit as good as the original!
Vegan Ramen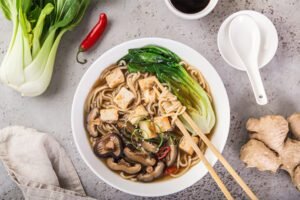 This has to be the best vegan ramen broth on the planet. Vegan Ramen with Miso Shiitake Broth is unbelievably flavourful and warming. Made with shiitake mushrooms, crispy tofu, bok choy and scallions. Sumptuous and oozing with flavours, a good bowl of Ramen is pure comfort food. We also have a tip for you to make it deeply satisfying and nurturing! You can give it a creamy twist by blending the finished broth in a blender. The shiitake mushrooms will give the broth a rich creaminess. The dish is well-balanced, containing carbohydrates, protein, fibre, some healthy fats and has a good amount of vitamins and minerals. As the vegetables are lightly steamed, they hold on to their nutritional benefits well.
Vegan Lasagna WithMushroom Bolognese
What is more comforting in winter than a hearty Lasagna Bolognese? This Vegan Lasagna is made with a robust mushroom bolognese sauce, fresh basil, vegan ricotta and no-boil lasagna noodles, topped off with a creamy marinara sauce, drizzled with arugula pesto – vegan food at its tastiest! The mushroom bolognese filling is rich and robust, worthy enough for a big bold glass of red wine. The vegan ricotta adds delicious richness and creaminess and has a very similar texture to real ricotta. This lasagna is protein packed with grams per serving and is sure to satisfy you!
Vegan Pot Pie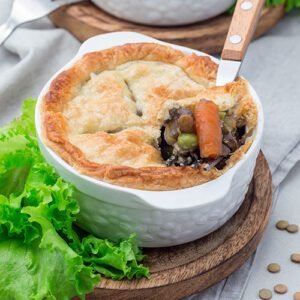 Vegan Pot Pie with seasonal vegetables is loaded with vibrant fresh veggies and flavourful herbs cooked in a delicious creamy lemon mustard sauce and topped with a flaky puff pastry crust. Make this decadent, beautiful, healthy pastry without any huge effort to steal hearts! Springtime is so wondrous and this can be your go-to dish for spring season as these veggies are vibrant and give a whole spring vibe. It will make your bodies say, 'more please'! Unquestionably, there is a puff pastry crust, but all the beautiful veggies somehow balance it out. The combination makes it just heavenly!