Rajkumar Rao starrer "Bheed" movie excellently shows the all colours of pain faced by migrant workers during the first lockdown.
This latest social thriller drama "Bheed" is out in theatres. And if you're planning to watch this black & white movie, then you must read this movie review. All of us definitely remember the time when Covid-19 hit India and affect our lives. People got panicked and stocked up their rations, everything was shut, people were fighting for survival and the government announced the complete lockdown from midnight of 24 March 2020. Some were the family members stuck in a different city and getting worried for their family and how will they survive.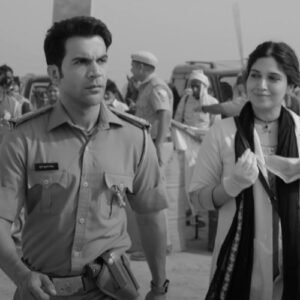 No one wishes to remember the year 2020 but it is also true that the pandemic leaves a deep mark on our lives. It is not possible to cover the entire Pandemic era but filmmaker-writer-producer Anubhav Sinha brilliantly showcased some stories of lockdown. He beautifully showed the pain of daily wage workers and blue-collar workers, who were moved to big cities for jobs and were forced to move back to their native villages because of the pandemic. This B&W movie has all the colours of pain and will definitely hit you hard.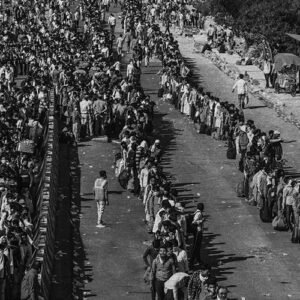 Bheed movie stars Rajkumar Rao, Bhumi Pednekar, Pankaj Kapoor, Ashutosh Rana, Kritika Kamra, and Dia Mirza. Actor Rajkumar Rao (Surya Kumar Singh Tikas) plays the role of a Police Officer alongside Bhumi Pednekar (Renu Sharma) who plays the role of Rajkumar's lover and a Health Worker. It is the first collaboration of director Anubhav Sinha with Rajkumar Rao and was shot under the banner of Benaras Media Works. This movie is co-written by Sonali Jain and Saumya Tiwari.
The story is set in Tejpur, and the story talks us through Surya Kumar Singh Tikas, a young Inspector who is made in charge of one of the checkposts of state borders. His significant other Renu Sharma is a health worker and was taking care of Covid symptomatic patients who were stuck at the checkpost.
Surya Kumar Singh Tikas' subordinate Singh Saab doesn't obey his orders and time and again Surya has to face caste discrimination. Among other migrants, there's Dia Mirza who comes from a wealthy family and went out to pick up her daughter from her school but was stuck at the Tejpur border. Her driver even tried to give a bribe to the officer but nothing works.
Then, there's Pankaj Kapoor who belongs to a Bhraman community and only wants to save his ailing people and will not allow his fellow passenger to eat food served by Muslims. There's also a young girl who works as a maid and carries his alcoholic father on a bicycle and finds a way to get to their village.
And lastly, there's a Kritika Kamra who works as a journalist and pours her heart out to cover the pain of those migrants and labourers and covers all the possible angles and becomes the people's voice. When people get no help from the government and face trouble they get anxious and try everything to get out of there.
This 114 minutes movie is worth watching. This film has the finest ensemble of casting and all the actors performed brilliantly. Anubhav Sinha did his job very well, he convincingly introduced every character's back story to the audience. However, some parts did show excessive. For instance, the sex scene can be avoided and constantly showing caste discrimination etc.
There are several other scenes which are heart-wrenching and hit you hard. This story will remind you of the time when millions of people slept hungry on the roads, how they long walk day and night just to get back home or to meet their family. You must watch this movie.