Project K starring Prabhas, Deepika Padukone, and Amitabh Bachchan is now titled 'Kalki 2898 AD'. Check out the glimpse
Nag Ashwin's Project K starring Prabhas, Deepika Padukone, Amitabh Bachchan, and Kamal Hassan, has got a new title 'Kalki 2898 AD'. The film made its debut at San Diego Comic-Con (SDCC) 2023 on Thursday. Project K is the first Indian Film to fetch this honor.
At the event on July 20 in San Diego, the makers unveiled the film's title and teaser. The first glimpse of the film shows Amitabh Bachchan, Deepika Padukone, and Prabhas trapped in a futuristic world, fighting dark forces. The event was attended by Prabhas, Rana Daggubati, Kamal Hassan, and Amitabh Bachchan (via Zoom).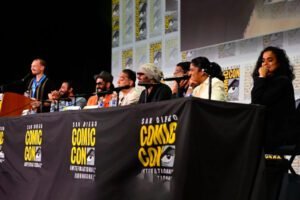 Along with Prabhas, Rana Daggubati, and Kamal Hassan were also present at San Diego Comic-Con 2023.
The 1 minute 16-second clip, showcases a dystopian society with visuals of orphaned children and Slaughtered people. A new force then appears to combat the darkness, and Prabhas performs certain action scenes in a particular style. We also see a glimpse of Deepika alongside a bandaged up unrecognized character of Amitabh Bachchan.
By the end, the video shows the lines, 'When the world is taken over by darkness, a force will arise. The end begins now". As soon as the teaser dropped, this anticipated project 'Kalki 2898 AD' started trending on social media with hashtags (#Kalki2898AD).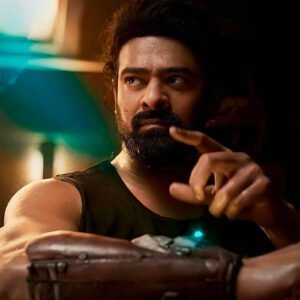 Prabhas' character will be inspired by the mythology character 'Kalki'. 
The new title accurately captures the spirit of the movie, arousing interest and excitement among viewers and cinephiles. The movie's debut trailer promises to take viewers to a world they have never seen before in Indian cinema. It is an expertly executed fusion of a rich storyline and futuristic elements that will provide an unmatched and immersive cinematic experience.
People were wondering about the absence of Deepika Padukone from the event. Reports stated Deepika Padukone was absent at the event at the Comic-Con reportedly due to the ongoing actor's strike in Hollywood.
First look of Deepika Padukone from 'Project K'.  
The actress is a member of the Screen Actors Guild-American Federation of Radio and Television Artists (SAG-AFTRA) and will adhere to the guidelines issued by the Union. However, last night Deepika Padukone was seen at Manish Malhotra's Lavish Bridal Couture Show organized at NMACC, Mumbai.
On the other side, when the first look of Prabhas was released by the makers, it left fans unimpressed which turned into another backlash for Prabhas. The poster went viral all-around social media and was hilariously trolled and compared with the poster of Adipurush.
Disha Patani will also play an important role in Kalki 2898 AD. 
But, as soon as makers hinted about the backlash, they removed the poster and then reshared it, albeit with a slight change (it seems like makers don't want any controversy around the film).
Along with other star casts, Disha Patani will be also seen playing an important role in the film. Project K a.k.a Kalki 2989 AD will release in different languages next year on January 12, 2024, directed by Nag Ashwin.
Makers shared new poster of Prabhas, after facing backlash from Netizens. 
Talking about other projects of the star cast, Prabhas will be seen in the upcoming action thriller 'Salaar' helmed by Prashanth Neel. Deepika Padukone will be also seen in 'Fighter' opposite Hrithik Roshan and in a cameo appearance in Jawan.