It's thursday, which means the gossip king of India was back with two new celebrities on the controversy couch. 
You can't help but be enthusiastic when you discover that Varun Dhawan and Anil Kapoor will be appearing on a Koffee With Karan episode. The "young" duo exudes charm and enthusiasm for Bollywood and their profession. However, after seeing the most recent Koffee With Karan episode, even celebrities like Anil Kapoor could have to deal with criticism from the press and public. It was a pretty terrible episode with a few fresh elements, but Karan Johar just had to spoil the viewers' joy by bringing up the same tired subject of nepotism and soliciting everyone's opinions on it. It was the eleventh episode of this season and by now everyone knows there cannot be an episode without Karan mentioning the topic of nepotism and how he is responsible for it. Every episode looks like a way of redemption for Karan, who wants to look good in the people's eyes after a couple of years trolling for nepotism.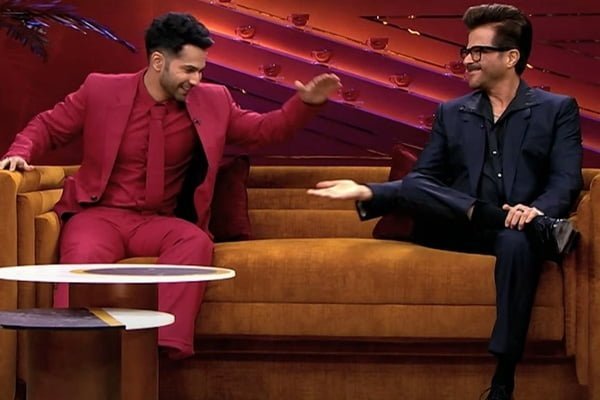 Karan Johar said that all three of them had a common factor which was nepotism, as they have been somewhat involved in one way or another
The episode got off to a really good start when Karan questioned Anil Kapoor about Varun Dhawan when he was younger and whether or not he could sense the eagerness building inside of him. He responded in a way that may have won many over by saying that when he met him on the set, he thought that he has traits of being Anil Kapoor's son more than David Dhawan's son since he aspires to be the greatest and give his all like him. The chemistry between Anil Kapoor and Varun Dhawan was great as we had already seen them in "Jug Jug Jeeyo" couple of months ago. The relationship between Anil Kapoor and Varun Dhawan was the episode's high point. VD and AK talked about their time spent working together on Jug Jug Jeeyo after settling into the coffee sofa. Anil added that Varun is just as much fun to work with as he is because he too is enthusiastic about putting his all to his profession. Varun described Anil as one of the most mischievous persons he has ever worked with, one who brings a lot of energy to the table and is an exceptionally hard working actor.
The chemistry between the duo was amazing and complemented each other well on the show as well as in the movie that they made 
From the wholesome moments to the moments we wished the editor had cut out before the episode was released. Karan Johar seems to be obsessed with infidelity and is another thing that pops up in almost every other episode of the show. Karan Johar noted how Anil Kapoor and Sunita Kapoor have been blissfully married for many years while Varun Dhawan just wed his childhood sweetheart Natasha Dalal. The Kal Ho Na Ho director continues by inquiring about their opinions on cheating in relationships. Varun Dhawan instantly turns the tables on KJo and asks him comically why he is so fixated on the topic. It was very obvious that the duo didn't want to answer the question but Karan being Karan kept forcing them, in the end they gave in. But both the superstars ensured that their answer was sensible and did not create any controversy.
Karan Johar tried his level best to get a controversial answer to his infidelity questions but the duo were quite relaxed and showed their experience
A big revelation that Varun Dhawan made was about Karan Johar and how he was in a relationship recently. The second high point of the programme came when, in response to Varun Dhawan's persistent prying, Karan Johar caved in and said that he had been in a relationship in the past but had ended it. The producer further made the implication that Varun was aware of this and was very appreciative of the connection, for which he again praised the actor. Karan took cautious not to reveal any further information on the same, though.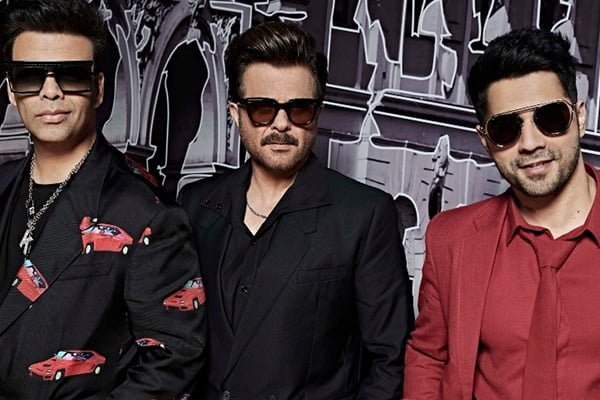 Varun looks like a person who would be supportive of his friend's relationships and is there for them anytime they want him
The most recent episode of Koffee With Karan had a rather unique part where certain viewers had the opportunity to ask the celebrities that graced the sofa for "marriage counsel." Well, the majority of the callers specifically asked Varun Dhawan for sex advise, and he didn't dissapoint them. Varun immediately gave the first caller, who wanted to know how to spice up his 20-year marriage, the advice to "role-play." Varun Dhawan continued by advising the caller to take "ashwagandha" since it truly helps, in fact, "100%," as Varun put it. The young celebrity continued by telling the caller to make love with his wife at least three times.  
The Rapid fire round was decent as both the actors gave reasonable answers and were more involved in each other's rapid-fire questions than their own. The fans felt that Varun might not have deserved the hamper because he was just using his close friend, Arjun Kapoor for all his answers which made him look obsessed but might have been a ploy to get away from any sort of controversy, this segment tends to bring. This rapid-fire was too difficult to take in starting from the suggestion that Arjun Kapoor has been slipping into people's DMs while dating Malaika Arora to Varun Dhawan's sex playlist filled with Usher songs to the discussion of a woman's body by three mature males on a public stage.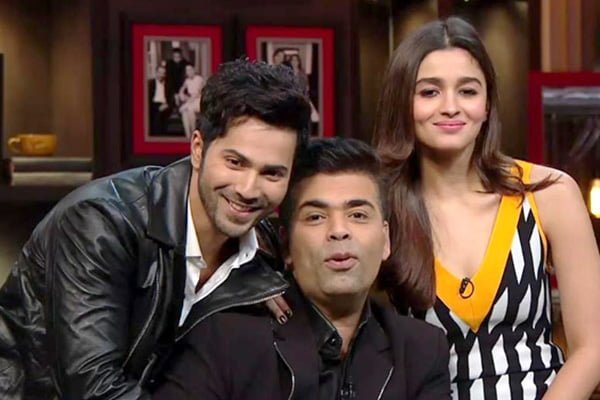 Varun claimed during the show that he thinks Alia Bhatt is her biggest competitor and push each other to give their best
In the myglamm zone for the last segment, Anil Kapoor looked himself as he went on to dance, which is arguably his strong zone. He was giving the right answers to most of the trivia questions as well but the dance done by him won the hearts of fans as well as Karan Johar and Varun Dhawan. Finally, the phone game gets underway in the Slam Zone, where the age difference between Varun Dhawan and Anil Kapoor takes centre stage. While Dhawan is able to get on the phone with a number of his co-stars, including Alia Bhatt, Kartik Aaryan, Kriti Sanon, and Kiara Advani, Kapoor is left standing in front of him, dejected since no one picked up. Finally, Fatima Sana Sheikh gives him a soothing call, although Dhawan had already won the round by that point. Anil Kapoor was given the award because of his exemplary performance apart from the phone game and Varun was kind enough to agree with Karan on this matter.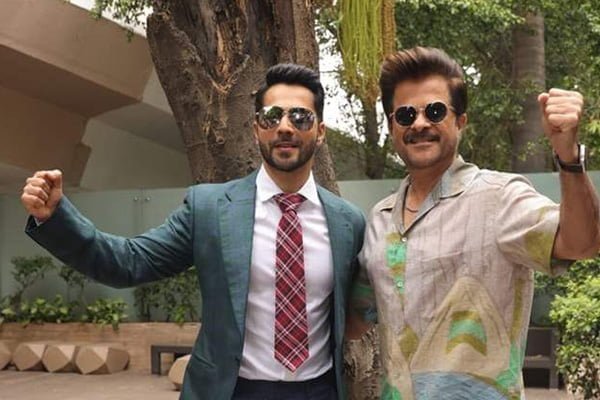 So both the celebrities took home one gift each as Varun won the rapid-fire while Anil was given the victory in the myglamm zone
Johar's couch provides an occasion to listen to frank sex conversations of the glitzy Bollywood elite almost every week. This episode introduces marital counseling sessions with cutting tea, delving into the same obscene behavior on a wider scale. The show's generally contentious and surface-level presentation might have easily benefited from the already begun discussion on nepotism, marriage, and adultery. However, the manner the subjects were handled was also quite subpar. However, as soon as the marriage experts take their position, they immediately return to the sex discussions. It would be a missed chance to bring in a seasoned actor like Anil Kapoor to the discussion though he objects to the label of veteran actor. In conclusion, the standards of the show failed to live up to the anticipation with which the spectators tuned in to watch. They undoubtedly missed the chance to engage in "interesting talks" with a member of the industry's elite. The same sex and nepotism-related subjects are undoubtedly losing the audience' attention, and the new caller segment was a complete failure. Like every week nowadays, we hope that next week, the show can bring bang the glitz that the fans tune up for.