Rani Mukherji made a solid came back on the big screen with Mrs Chatterjee Vs Norway after three long years. This movie is inspired by a true story of an Indian Couple.
The most versatile actress in Bollywood Rani Mukherji is set to return to the silver screen after three long years. She made a solid comeback with Ashima Chibber's Hindi-language drama movie " Mrs Chatterjee Vs Norway". Her most-anticipated movie trailer was released on Thursday. Her movie is inspired by a true story. An Indian couple Anurup Bhattacharya and his wife Sagarika Bhattacharya, whose children were taken away from them by Norwegian child welfare in 2011.
Taking to Instagram, zee studios shared the trailer of the Mrs Chatterjee Vs Norway movie. Many Bollywood celebrities shared the trailer on their Insta-stories and praised Rani's acting skills. After watching the trailer her fans got very impressed and excited to watch the movie. Other than Rani Mukherji, Neena Gupta, Anirban Bhattacharya, Jim Sarbh and Estonian actors Erki Laur and Kristjan Ukskula plays pivotal role in the movie. Rani Mukherji plays the titular role of Mrs Deebika Chatterjee, a feisty Indian mother who goes to any extent to protect her children.
The trailer begins with the introduction of Rani's character Deebika, who has a perfect family and a happy life in Norway. They leave their country to start a new life in Norway. She is happily married and had two kids Subh and Suchi. Their life was good until their children were snatched away from the couple by Norwegian child welfare. Later, she learns that the Norway government took her kids because they think the couple have been unable to properly take care of the kids. The authorities object to so many things she did such as hand-feeding the kids, comparing it to force-feeding and the child sleeping on the same bed with parents, putting 'kaala teeka or nazar teeka' on their forehead etc.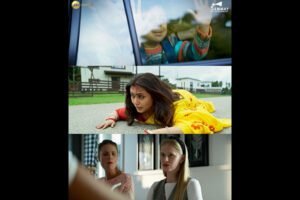 This inadequacy happens by the Norway government because of unawareness of Indian culture. But Deebika Chatterjee won't give up and stand against the Norwegian government for her kids. She moves to Norway's court even though she moves to India to fight for her kids, without any support. At some point, her husband also not supported her and get more concerned about his citizenship. This film recounts the story of an immigrant Indian couple and the struggle of a mother who fights against a nation to win back the custody of her children.
The trailer gives us a glimpse of the film which will take you on a roller-coaster ride of emotions. This film is produced by Monisha Advani, Nikkhil Advani and Madhu Bhojwani under the banner of Emmay Entertainment and Zee studios. The film was first slated to release on March 3, 2023. Then, the release date of the film was postponed and scheduled to hit the theatres on 17 March 2023.