A new year deserves new fitness regimes – and trends! There's no use following the old trends, right? Read on if you're feeling curious about what will be trending this year.
2022 saw an increased focus on fitness and fitness trends. And if you too went on a hot girl walk, or gave in and created your very own home gym, you also took part in the major fitness trends. But, 2023 is here – and so are the latest trends in the world of fitness. So, if you are a fitness buff just like us, you're in the right place. It's time to start looking toward the future and plan for the upcoming year. This also includes achieving all your fitness goals for the year. So, if you've made resolutions to work on your fitness in 2023, these are the hot trends we – and experts – predict to take the fitness world over by storm. Read on to know what you're getting yourself into!
1. Virtual Reality Workouts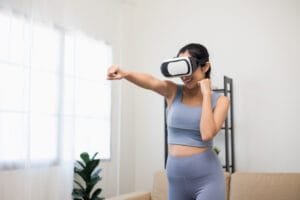 VR workouts have gotten major updates.
Long gone are the days of working out in a drab basement gym. In 2023, Virtual Reality workouts are going to become mainstream. The use of high-tech headsets and devices is set to witness exponential growth and a more widespread use amongst fitness buffs. Even as VR product and services industries are expected to grow considerably by 2029, software companies also continue to add in more apps to make working out feel like playing a game. VR workouts have also gotten major updates, be it slashing music notes or climbing mountains, both in terms of graphics and physical challenges. The factors that make VR workouts so appealing are that there are no real-world restrictions, you can virtually connect with other fitness enthusiasts. There is also no 'gymtimidation' and it is suitable for fitness users of every level. There is nothing difficult about it either. All you need to do is slip on a VR headset and immerse yourself in literally anything – from rock climbing to boxing and dancing.
2. Free Movement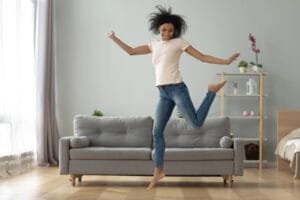 Free movement is all about reconnecting with one's body and finding enjoyment in movement.
Another buzzy trend is making rounds around the internet – free movement. It is also otherwise known as intuitive movement and is all about reconnecting with one's body and finding enjoyment in movement. Since long, we have confined our bodies to rigid exercise routines in the name of fitness. But it seems like 2023 is the year it will change as we step away from this rigid structure and turn to more fluid and intuitive movement as a way to stay fit. The concept of moving without rules is the antidote to our well-planned world. Free movement is helpful as it allows one to tap out of their mind, letting the body freely go wherever it wants to. You can connect with how you feel on an energetic, somatic or body level rather than just living in the head. This is usually also what we do in many other forms of movement like yoga. As times change, so do trends. And so, wellbeing, mindfulness, and yoga have come to the forefront. This is also how free movement became a trend, and it seems like it is here to stay this year.
3. Primal Movement
Primal movements are movements the body is naturally designed to perform.
Although both sound – and feel – a little similar, don't get this confused with free movement. Primal movement exercise is just a collection of exercises to help your body move in different planes. Primal movements are movements the body is naturally designed to perform. In the most basic terms, it is a way of shaking off the cobwebs after being cooped up inside all day. If you have a job that requires you to sit at your desk all day, this is for you since primal movement helps recharge the body and shake off the effect of sitting in one place the whole day. Given that remote working has started to become more mainstream, this is a trend people are turning to in search of ways to combat the feared phenomenon that is 'tech neck.' People have started to use their chairs and desks to perform exercises like hip dips or stretches. It seems like fitness is about to go back to the basics this year.
4. Posture Workouts
Posture workouts are easy and can be performed even from your desk.
Who isn't stressed about bad posture? And the dreaded phenomena like tech neck or the dowager's hump don't help. If these scare the bejeezus out of you as well, then we have good news for you. Posture workouts are going to be big this year so you'll easily find ways to keep your posture upright and correct. If you're seeking to improve your posture for a comfortable, pain-free daily life or just as a preventative measure for old age, posture workouts will help. These workouts train and strengthen muscles that support the spine and the lumbopelvic hip complex as these are key in keeping you upright. Add bodyweight moves and postural training moves to your routine to keep yourself upright and relaxed. The pigeon pose can also help. Posture workouts are easy and can be performed from your desk or your home.