Can You Believe That The Pumpkin Used To Be A Totem Of The Fight To Abolish Slavery In The 1800s In America And Is Now One Of The Exclusive Symbols Of Thanksgiving? Read On To Learn How It Fits In Your Cocktail Glasses!
No matter what seasonings you use, the combination of Pumpkin Martini with a full course of Turkey dinner is perfect. This vodka martini with pumpkin flavours gives some serious fall vibes. A pumpkin martini is an ideal drink for Thanksgiving or any fall gathering with natural pumpkin spice. The best part of this cocktail is the graham cracker rim. The graham crackers aren't only for decoration they add an essential pop of texture and flavour to each sip. Add the right sense of sweetness and crunch with graham crackers to hit the perfect taste. So, this thanksgiving prep up your pumpkin martini and get ready to slay the Thanksgiving game!
Pumpkin Martini
Ingredients – 
2 tablespoons finely crushed graham crackers
1 tablespoon granulated sugar
1 1/2 teaspoons pumpkin pie spice
1 1/2 ounces vanilla vodka
1 1/2 ounces Irish cream liqueur
1 1/2 tablespoons pumpkin purée
1 Cinnamon stick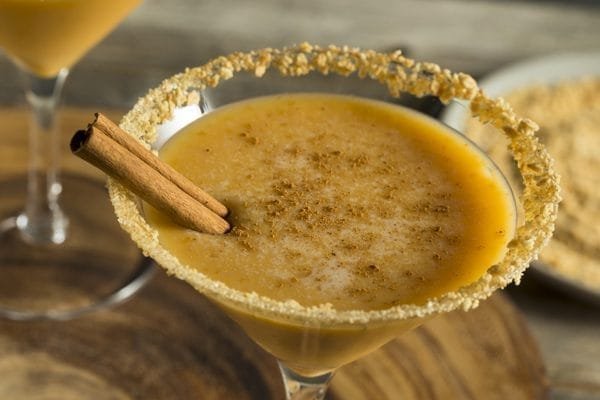 Method –
Step 1: Gather the ingredients in a small dish, and combine the finely crushed graham crackers, sugar, and 1 teaspoon of pumpkin spice, mixing it into an even consistency. Pour a bit of Irish cream into a second small dish. 
Step 2: Rim a cocktail glass by dipping the rim into the Irish cream, and rolling it in the graham cracker mixture, tapping off any excess. Place the glass in the freezer for a quick chill while you prepare the cocktail.
Step 3: In a cocktail shaker, pour the vanilla vodka, 1 1/2 ounces of Irish cream, pumpkin purée, and the remaining 1/2 teaspoon of pumpkin spice. Fill the shaker with ice and shake it vigorously for 30 seconds.
Step 4: Strain it into a prepared cocktail glass and garnish it with a cinnamon stick and your fabulous Pumpkin Martini is ready.
Have A Twist with Some Variations –
Rather than Irish cream one can also use RumChata a Caribbean rum-based cream liqueur flavoured with cinnamon and vanilla.
Pumpkin pie filling naturally creates a slightly sweeter pumpkin martini. When using it as a substitute for the purée, pour 1/4 to 1/2 teaspoon of pumpkin spice.
Vanilla vodka is a common choice for a pumpkin pie martini, this drink is also interesting when made with vanilla or spiced rum. 
For extra spice, replace the vodka with a bold rye whiskey.