Want to Make Your Friends Drool Over the Food You Make on Parties? Well, Here's an Easy to Make and Delightful Dish That People Will Surely Love!
To all the Mexican food lovers, we have something other than taco for you guys, Quesadillas, a dish consisting of tortilla that is filled primarily with cheese, and sometimes meat, spices, and other fillings. However, we had to bring the recipe with a little twist and that's why we present to you a mouthwatering combination. Chicken & Cheese Quesadillas. Now when there's chicken, there's cheese, what more could you ask for?
INGREDIENTS:
1 lb. Boneless chicken breast, diced
4 medium Flour tortillas
Fajita seasoning
1 tbsp. Vegetable Oil
2 c. Shredded Cheddar cheese
2 c. Mozzarella Cheese
2 c. Monterey jack Cheese
Bacon Bites (Optional)
½ Chopped Onions
Veggies of your choice: Bell Pepper, Mushroom, & more
Black Pepper
1/2 tsp. Chili powder
1/2 tsp. Ground cumin
1/2 tsp. Dried oregano
Sour cream, Salsa Dip or any other Dips for serving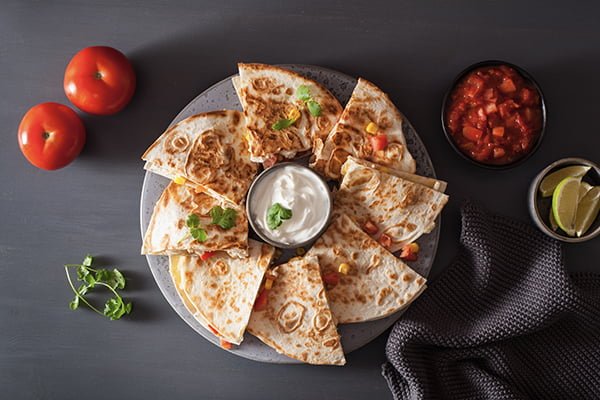 Chicken & Cheese Quesadillas
RECIPE:
We'll begin by cooking the chicken. Take a broiler and preheat. Seconds later, grease a baking sheet.
Cast the chicken into the broiler with fajita seasoning and spread onto the baking sheet.
Make sure to cook the chicken until it is no longer pink in color from the center. The process will take around 5-7 minutes.
Before we move forward, time to preheat the oven to 350 degrees F (175 degrees C).
Coming back to cooking, take a saucepan, heat oil, and add in your favorite vegetables for a wholesome flavor. Add chicken and other left species.
Cook and stir until vegetables have softened. It will take about 5-10 minutes.
We're almost ready. Now lay half of each tortilla with chicken and vegetable mixture.
Time for the best part, sprinkle cheddar cheese, monetary jack cheese, mozzarella cheese, or any other that you desire.
Fold tortillas in half and place them onto a baking sheet.
Bake quesadillas in the preheated oven until it smells delicious & the cheeses have melted for about 10 minutes.
And voila, cut each quesadilla into 4 wedges and serve with sour cream or any spicy dip.
NUTRITION FACTS
Per Serving: 244 Calories; Protein 13.7g; Carbohydrates 21.8g; Fat 11.3g; Cholesterol 34.9mg; Sodium 504.3mg.