The price for the Hugo Boss slippers which look like bathroom slippers found in every desi household has shaken the internet.
The strategy of luxury brands to sell regular products at whopping prices in order to grab the attention of the audience is no news now. We have seen it all, from Balenciaga offering a trash bag for 1.42 lakh to Gucci selling kaftan kurtas for a whooping 2.56 lakh. Well, another latest inclusion to the list is Hugo Boss. The luxury brand has recently launched humble blue-colored regular flip-flop slippers and the price has raised the eyebrows of many.
 While the brand is selling these slippers at a discounted price of ?8,990, or a 54 percent saving, it is becoming extremely difficult for the netizens to differentiate between these flip-flops and the regular bathroom slippers which are usually found in literally every Indian household.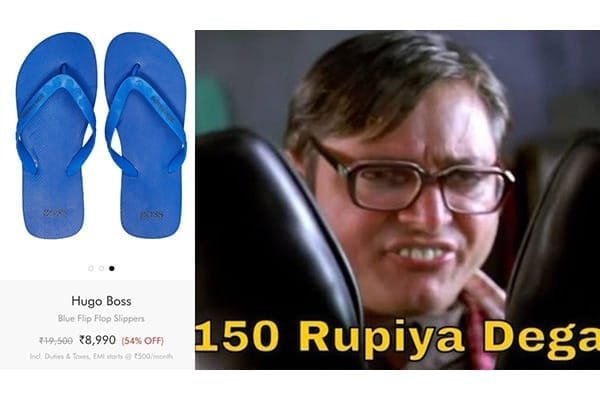 Netizens shared the famous meme from the Hindi movie 'Phir Hera Pheri'.
Even more intriguing is the fact that the company offers EMI on their product, with monthly payments starting at 500. The starting price for the product is 19,500, which is clearly too much to ask for.
The buzz around these luxury slippers started when a Twitter user posted about the same and then began the meme-fest around the slippers. While some netizens posted images of similar-looking 'typical bathroom slippers' they had, others shared the famous meme from the Hindi movie 'Phir Hera Pheri'.