The new Skims nipple bra is a major concern of climate activists even after donating to climate charity. Let's know the reason, why?
Fashion fanatics, you all might be shocked after knowing about this! We all know that why the bra was invented? It was supposed to cover all the women's necessary assets. Well, it seems like, reality TV star Kim Kardashian doesn't think like that anymore. She changed the entire narrative. Fashion business mogul and reality TV star Kim Kardashian is changing the bra game with her newly launched SKIMS' ultimate nipple bra. The star took to Instagram to make this announcement. She posted a climate-themed campaign video featuring her. 
In the video, she's giving a fake lesson about climate change while wearing the bra. She said, "The sea levels are rising, the ice sheets are melting, and I'm not a scientist, however, I do believe everyone can use their skill set to fulfil their part". Further, she said, That's why she launched a brand-new ultimate built-in nipple bra. In the caption, she wrote that her brand SKIMS is donating 10 per cent of their "Ultimate nipple bra" product sales to environmental organizations.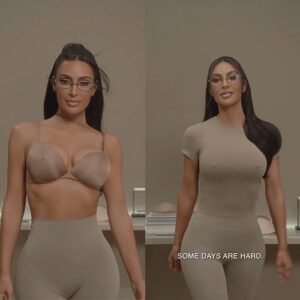 Even after this, climate activists and commentators said that it's contemplating the earth's imminent demise. Critics have taken issue with the video and a lil bit mocking her tone that they say makes light of the climate crisis. Additionally, they have emphasized that the product is composed of synthetic fibres, including nylon and spandex, which are derived from fossil fuels, which are the primary cause of global warming. Many people also said that this nipple bra is not their cup of tea, why does anyone feel the need to make this kind of bra in the first place?
While other people see this as a good step towards body positivity. However, Kim K is also known for his fearless choices in life and fashion. Whether wearing cutout ensembles or an all-black look, she always pushes her fashion limits. On the work front, Kim Kardashian was last seen in American Horror Story: Delicate which was released on 20 September 2023. She plays the role of a publicist named Siobhan.