The King of Bollywood, Shahrukh Khan has turned 57 today and we will take a look back at five of the best romantic movies of SRK's career.
The second of November is not like other days. Today is a significant day in the Bollywood industry. Shah Rukh Khan, nicknamed the "King of Bollywood," became one year older today. 
Thousands of followers gathered outside the actor's house last night to wish him a happy birthday. In front of his house Mannat, where he was greeting admirers, SRK and his son AbRam Khan struck their famous pose. SRK is recognised as the king of romance in the industry. In his films, he has portrayed a number of lover boys. However, he also let his dark side out and played a villain in some of his movies. Let's take a look at some of his most enduring and cherished romantic roles as he celebrates his 57th birthday. 
1) Kuch Kuch Hota Hai
This movie was released in 1998 when SRK was at the peak of his career, and since that era he has not looked back. No one can imagine that this movie was directed by a debutant as this was the first ever movie for Karan Johar as director. All of the teens and those in their mid-20s could connect to the story because of the faultless casting for the roles, as well as the style in which it was presented. No matter how many times you see this movie, you'll always feel a connection to Rahul, Tina, and Anjali. This movie never gets old. The supporting cast, which included Salman Khan, Archana, Anupam Kher, and many others, was excellent as well. The bond Kajol and ShahRukh held throughout all of their films is still unmatched. The pair used to complement one another nicely, and their love stories can only be imagined in dreams.
This is the one of the most iconic scenes from the movie and tells the audience about the love triangle as well
2) My Name Is Khan
My Name Is Khan's Rizwan Khan, played by SRK, demonstrated his willingness to do anything for the love of his life. The on-screen connection between ShahRukh and Kajol, who have partnered on the majority of his well-received romantic films, is what makes the film so lovely to watch. The film had a number of objectives, and it was centred on an autistic Muslim man who was attempting to convince both his family and the rest of the world that he is not a terrorist. Due to his religion, he suffered many negative effects along the way, including the death of his kid and the separation of his wife. But as is well known, Rizwan took sure to reveal both his son's identity and the fact that he is not a terrorist to the world by going through the toughest of routes. Few actors in the world of cinema are as adept at playing the part of an autistic person as SRK. The way he gazed at Kajol during the song, Sajdaa, is still one of the most endearing sights ever.
Both Shahrukh and Kajol were class apart in their roles and play their character to perfection in this masterclass
3) Om Shanti Om
The big screen debut of Deepika Padukone, a future superstar, was made possible by this movie. Shah Rukh Khan's mystical presence in it enriched this movie a thousand times over thanks to him. With the plot of a young actor falling in love with a famous actor, this movie displayed the strength of love in all its glory. In the second half of this reincarnation tale, Shah Rukh played the role of a contemporary superstar who subsequently regained his memories and resolved to exact revenge on those responsible for the unjust death of his beloved. This film was undoubtedly a grand homage to the celebration of love, with a breathtaking ending and a charming cast. The songs of the movie complimented the plot very well and are still some of the top songs from the bollywood industry 
There couldn't be a better way to show Shahrukh's love for Deepika in the movie
4) Kal Ho Na Ho
 Kal Ho Na Ho is one of the best friendship love stories there is in the bollywood industry. We saw Shahrukh in a very different role and the kind of versatility he brings to the table is unmatched in the industry. Aman Mathur, is the role played by SRK in this movie, whose main role is to make everyone happy and make sure everybody is smiling. He put a smile on the faces of the other characters even if it meant that it had to come at the cost of love. He was in the United States for treatment but stayed quiet on this topic till the end. He made sure that when he left, the girl that he loved the most, was married and living a happy life with the person who loved her the most. Not all stories ended on a happy note but this time SRK truly taught us that you have to sometimes make the biggest of sacrifices to see the smallest of smiles.
Kal Ho Na Ho gave us everything from Shahrukh's amazing performance to cheerful songs and even made us cry at the end
5) Dilwale Dulhania Le Jayenge
Undoubtedly, one of the greatest bollywood love stories to be ever made, has to be Dilwale Dulhania Le Jayenge. It is still the dream for many people in this world, to find their loved ones, and this movie showed us how we should never give up if we are in love. There must be a reason why this movie is the only one that keeps bringing big crowds to the Maratha Mandir, where this image is constantly shown. DDLJ, as it's known to millennials, is a well-known love story starring the renowned team of Kajol and SRK. Rahul, who plays a sweet and appealing character in this Aditya Chopra movie, makes everyone fall in love.You must see this movie to the very end every time it appears on your screens because Shah Rukh's character in it continues to rule hearts to this day.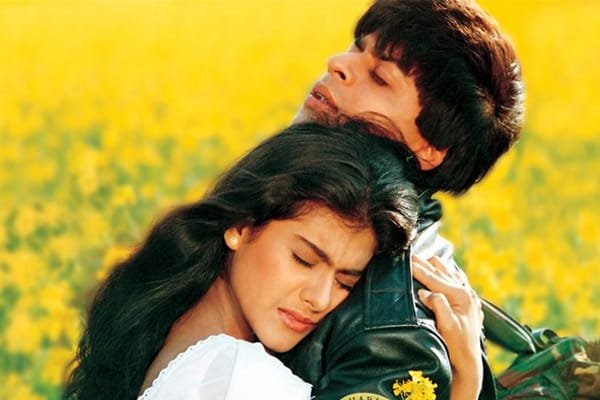 DDLJ is still screening in some parts of the country and has a daily show in Maratha Mandir in Gujrat
Shah Rukh Khan is the only actor from Bollywood who can be referred to as the King of Romance. SRK, the Badshah, has a special connection for romance in his career graph. He may easily be past the romantic era at this point, but the general public will always remember and love his romantic comedies and dramas.