Shah Rukh Khan and his witty replies to trolls are a great dose of entertainment for us. Check it out.
The renowned king of romance in Bollywood, Shah Rukh Khan aka SRK turned 58 this year on 2nd November. It's nothing less than a festival for Srkians . The renowned actor has earned a unique place in audiences' hearts throughout the world. Though he is known as the "Badshah of Bollywood" for his enchanting parts in several Hindi films, Mr. Khan has continuously shown that he can play a variety of characters well, proving his flexibility as an actor. He has acted in more than ninety films and received multiple honours, including fourteen Filmfare awards. In addition, he is a successful businessman and film producer.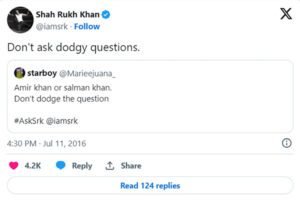 Shah Rukh Khan has produced two successful movies this year: Pathaan and Jawan, demonstrating that his magnetic presence and skill can still forge a deep bond with viewers. He is not only known for his captivating acting skills but also for his sense of humour. The king of romance is as brilliant on social media, surpassing many of Bollywood's up-and-comers. His savage responses and epic comebacks are defined by his humour, sarcasm, and cleverness. It's not wrong to say that the king of romance is also a king of savageness. In this regard, we share some of SRK's witty responses to his followers' posts that they asked on #ASKSRK.
One of his followers asked "Aamir Khan or Salman Khan" Don't dodge the question, to which Shah Rukh Khan replied, "Don't ask the dodgy questions". In response to another question, "Who is your favourite actor aside from Abram's father?" he said, "Aryan's father," demonstrating his intelligence. This one is our favourite, a user said "Sir, why do you release the movies so late, release it soon". On this request, King Khan wittily replied "Aadhi kar du kya?" Here's another one, for this one we can bet it gives butterflies to girls, one user said, "Sir, please help me ask a girl to prom", King Khan replied "If I ask she won't go with you… haha. Although, the Shah Rukh Khan is not wrong, who wouldn't want to go to a prom with the romance king itself?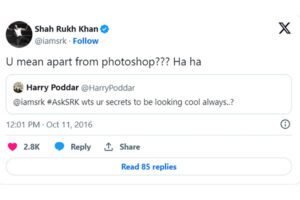 "What's your secret to looking cool as always?" a user asked. "You mean apart from Photoshop??" he answered. Hehe. There are a ton of other #ASKSRK tweets, providing netizens with a great dose of enjoyment. In addition to being a fantastic actor, Shah Rukh Khan is a successful producer, TV personality, and philanthropist. In addition, he has a significant global fan base and is among the wealthiest actors in the world.