Everything is meant to be essential for a bride, but there are some necessities that would be in her survival kit for a bride on her wedding day.
Ladies, the Indian wedding season is here and if you're getting married during this wedding season, know that we completely understand the nervousness that comes with each passing day. Every girl has dreamt of her big day, the day when she enters a new phase of her life. For every girl, this one-day transition from Miss to Mrs. is incredibly special.
For both the bride and the groom, it is an extremely important day. Everyone has already put a lot of blood, sweat, and money into it, so everything just has to work out, and that too, smoothly. We all know that all the little things and rituals are given utmost importance and just like that, an Indian bride also requires a lot of management because she must participate in several wedding rites and celebrations.
So, here are a few essentials and last-moment Do's and Don'ts for Indian brides to keep in mind to avoid any hassle and enjoy their wedding day.
The Wedding Dress
Wear your turtlenecks under blazers, dresses, and everything possible.
Of course, the outfit that you are going to wear at your pheras is the most important on your big day and should be given the most attention. You need to make sure you are prepared with everything from your dresses for all your functions and for your big day. Pay attention to the fabric and weight of your lehenga because the wedding is going to be an affair of many hours and you don't want to wear anything uncomfortable.
Makeup Artist
You can swap your chunky sandals with knee high boots.
Make sure to make bookings with your makeup artist on time as it can be hard to find one in the wedding season due to many weddings. Keep a check on his/her availability for all the functions and don't forget to discuss the style and colors of your dress, hair, and makeup preferences.
The Girl-to-Bride Kit
Pick from the vast variety of tights to keep you warm and give you a dapper look. 
If you're wondering what this means, it is simply the kit will comprise everything you will need to get ready as a bride. From footwear to jewellery, from the whole outfit to safety pins, from first aid to some refreshments, from tissues to translucent powder to hide that sheen glow of nervousness, phew, everything needs to be in this kit. Well, you will also need a special person or one of your bridesmaids to help you with this.
Prepare the Luggage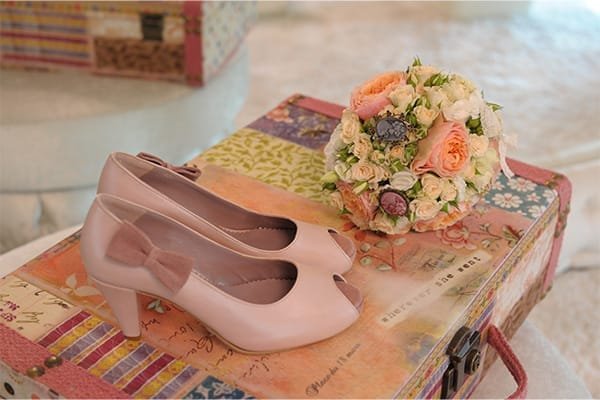 There are a thousand ways to style your skirts in winter by adding some more clothing.
Prior to the wedding, you should pack your suitcase, which will have all the clothes you'll be bringing with you to your new home or, in this case, your honeymoon. The bag must contain your clothing, accessories, toiletries, and other essential items like your ID, passport, and credit cards.
Extra Tips for the Bride
You can accessorize your summer dresses with fuzzy coats to keep you warm.
Darlings, remember that taking all the responsibility on your own will not be a great idea. You can distribute the responsibilities and act as a helping hand.
When choosing your jewellery, keep in mind to select pieces made of golden metal with any other basic shade of kundans and stones like maroon or green rather than different hues that could be challenging to match with the style.
Eat well-balanced meals some months prior to the wedding to cut down the intake of fats and drink plenty of water. Also include green or fruit juices in your diet to detoxify your body. This will also help to nourish your skin and hair.