It's time to put on your spooky costumes and scare it up a bit by putting some decorations on. So, read on to know some fun Halloween celebration ideas and you can go for the ones you like the most.
The festival of spookiness is just around the corner and it's finally the time to scare things up to celebrate Halloween. There is no doubt about the fact this festival is different from others and that's what makes it even more special and fun. Everything about Halloween is full of darkness and eeriness. From playing fun games to dressing up as ghosts, it's time to eat, drink, have fun, and be scary.
Don't worry if spooky isn't the vibe you want to go for. No matter how 'intensely creepy' you want your party to be, we have all the Halloween party ideas you could possibly need.
Halloween House Party
From playing fun games to dressing up as ghosts, it's time to eat, drink, have fun, and be scary.
There is so much stuff that you can play around with for a Halloween house party. If you are planning to host one this year, the first thing you need to come up with is the theme, which depends on the crowd that is going to be there (if kids are involved in the party, make sure to consider the theme accordingly). Make a checklist and get your party supplies ready at least a week before to avoid any last-minute hassle.
Send some creative and ghostly invites to your guests, and make the décor fun by arranging eerie without worrying because the internet is filled with some cool and funky DIY ideas. Arrange drinks and snacks according to the Halloween theme and that's it, play some fun games, dress up as your favorite devil character and have a fang-tastic night this Halloween.
For Those Who Want to Keep It Simple
The movie night will become even better when you will dim the lights and watch a horror feature with your close ones.
If you are the one who runs away from the party vibe, don't worry, we've got you covered as well. Keeping it simple, you can meet up with your friends and make it a movie night which will turn out even better when you will dim the lights and watch a horror feature with your close ones. Get the best horror movie selection, bring your friends over for a scary movie marathon and brace yourselves for a spine-chilling experience. Also, don't forget some snacks to gobble in between.
When you have your friends around, you should spice up the vibe. Ask your pals to exchange any frightening tales or experiences they may have had. Don't turn on the lights to heighten the fright. While playing the game, keep a torch nearby, and give it to whoever tells the tale. They will be the centre of attention! 
Foods and Drinks
Arrange some fun snacks and drinks for the party.
There is a strong connection between Halloween and sweets. There are some simple yet delicious dessert and appetizer suggestions for your Halloween celebration. You can serve a wide range of food items during the party, like monster pizza bites and spooky sugar sweets. Make sure to create a balance between the sweet and savory flavors of the food, and try to get snacks that can be eaten with hands as people are there to mingle. Just like snacks, drinks are also a must.
Don't Forget to Dress Up!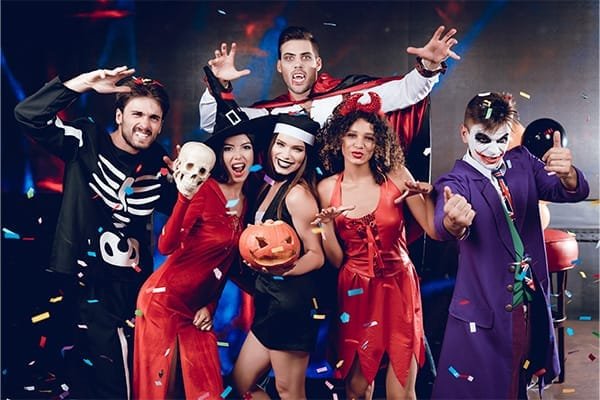 Costumes will make the Halloween party more enjoyable. 
Halloween can never be complete without a fun ghost dress-up.    If there is one thing you absolutely must include in your Halloween party, it is this. Request that everyone dresses up in costumes by calling some friends and family. Don't forget to purchase yourself a costume that is both fashionable and eerie. Decide who has the best costume by casting your vote now, everyone. And a gift must be given to the winner. Be sure to purchase one, then!