Sunny Leone looks completely ravishing in every single photo. Her hair, outfit, and makeup are so damn perfect. But there's a lot more to Sunny Leone than just what meets the eye – and one may perhaps feel that, post every interaction with her. A package of energy, witty and child-like, she's also a very determined woman who makes sense all the time.
CANDID CONFESSIONS
Sunny was in a revealing mood. We got to know so much about her. These are the five things you probably didn't know about Sunny Leone.
1. My Obsession
"More and more every day, I feel like donuts are becoming my new obsession. Donuts are circles of pleasure. It's like a never-ending sweet path of escapade and every bite makes me feel alive inside. It's not just about that chocolate glaze or pink frosting with sprinkles. And the best part is they come in all shapes and sizes."
2. Growing Up As a Tomboy
"Growing up, I was hands-down one of the biggest tomboys. I was never concerned with being covered in dirt, having un-brushed hair, or wearing clashing colours even if that sounds like a waking nightmare at the moment."
She is a stress buster. With her, a bad day turns into the most amazing day.
3. Diamonds in my Watch
"My relationship with Rolex wristwatch is just beautiful. Rolex is a world of its own: respected; admired; valued; and known across the globe. Sometimes I sit back and think about all that Rolex is and does and find it hard to believe that at the end of the day, they just make watches."
4. My Mansion Fantasy
"I'd picture myself living in a huge mansion on top of a hill. I have often wondered what it would be like to have my own private island, a beautiful paradise in which I could live a peaceful life. I want to travel where I want and when I want."
5. My Way or High Way
"As I have grown older I have realised just how stubborn I really am. Actually, my favourite slogan is 'my way or the highway/motorway/no way' (hehe). But my husband knows how to deal with it. He is really very understanding."
She is a stress buster. With her, a bad day turns into the most amazing day.
GOING FULL THROTTLE WITH THE SEXY SIREN
Hey Sunny, did you like the shoot?
Well, it was wonderful. I immediately loved the theme. FHM is indeed known for the hot covers but this time we were nicely able to shoot in such beautiful clothing.
What are your plans this festive season?
During the festive season, I believe I'm going to be in the United States, China, and Canada.
What's keeping you busy these days?
We are doing everything under the sun. I'm blessed with everything I need and I'm working hard towards everything I want.
How is baby Nisha lighting up your life?
The whole experience is just incredible. Nisha is the best gift I could ask for. She is so beautiful and awesome. And yeah, very naughty as well. I'm so blessed to have somebody like her in my life, even if the world is crashing around us; she maintains that beautiful smile when we come home. She is a stress buster. With her, a bad day turns into the most amazing day.
How do you balance your work and private lives?
It's about time management. The very idea of attaining balance is a big part of the problem. My approach is not to balance, but to integrate. It requires some thought and discipline.
Hardworking and clumsy. Life is very short, and I enjoy every moment.
I've scanned your social media and it seems you are venturing into uncharted territory, and looking to experiment with different kinds of movie roles. Would you like to talk about your upcoming projects?
Unfortunately, those projects haven't been announced yet. So, I can't say much about them. But yeah, I'm eager to do more exciting roles in future. Also we are eagerly waiting to see your biopic… There's really nothing I can talk about.
Now I want to ask you about the woman that you are. Who is she?
Umm… I think I am a work in progress. I feel better about myself the older I get.
Great answer! What's your best physical feature?
My elbow (hehe)… just kidding. I think it is my smile because I love smiling. I'm somebody who enjoys to smile.
I agree! For all those women still struggling with selfidentity issues, what would you say to them?
Being a strong and independent woman means that you are able to find happiness on your own. You should have self-confidence without having to rely on another person or society for validation. It means learning to accept who you are at your core, whether you are shy and soft-spoken or loud and assertive.
I actually change all the bad Hindi words to something funny.
Can you give us an example?
The perfect example is the nanny of Nisha. I'm so proud of her. She has taken the decision to travel with us. She is an independent woman and is capable of meeting her own needs.
What's the weirdest thing a fan has ever done for you?
A young girl in Hyderabad came up to me and started crying and I didn't know what to do. My body guard suddenly started singing happy birthday song and then the entire room was singing for her (though, it wasn't her birthday), but we tried to make her laugh.
What is the most romantic thing your man has done for you? We would like to know the details…
He made a beautiful diamond necklace for me that I got to wear on my wedding day. That was really the moment of aww…
What is one thing that always makes you feel romantic?
My husband always makes me feel so romantic.
What will you say if you have to describe yourself in a line?
Hardworking and clumsy. Life is very short, and I enjoy every moment.
I like the authentic Mexican food from California.
Are you working on your Hindi?
Humesha (Always).
That's nice! Now tell me about your favourite cuss word in Hindi.
I don't really cuss in Hindi. I actually change all the bad Hindi words to something funny.
Like???
Like Teri Maa Ki Chappal and Teri Maa ki Daal.
That's funny. If you were a man for a day, what would you do?
I would definitely walk without my shirt.
Hotness alert! If you were a super villain, what scandalous crime would you commit?
I would rather want to be a super hero. I want a world of peace (haha). Am I sounding conventional?
Yes, you are. If you were an animal, what would you be?
Eagle, as I want to see everything. I want to see the whole world.
Sunny, you are the most searched star on Google. Tell us what was your last Google search?
I searched the recipe of a dish.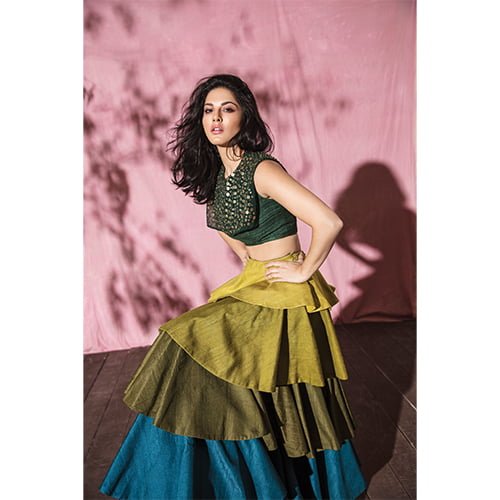 I have fear of bugs and insects phobia.
What's your favourite meal?
I like the authentic Mexican food from California.
One thing you won't eat is…
Any exotic animal.
What's your favourite place on earth?
Los Angeles, California.
What's the most precious thing in your wardrobe?
My Rolex watch covered with diamonds.
What celebrity would you rate as a perfect 10?
Aamir Khan.
Do you have any phobias?
I have fear of bugs and insects phobia.
What are you more comfortable in – Indian or western wear?
Western wear.
How would your perfect day end?
My perfect day would end with good food and a glass of wine.