If you wish to experience the ultimate, purest form of motorcycling, sports bikes are the perfect choice for you. To choose the best one for yourself, read on!
A decade ago, all motorcycles looked roughly the same. Fast forward to today, and you probably can't tell which is a sports bike and which one is a cruiser. To make this complication easier, we are here to help and are going to help you understand how to tell if the motorcycle in front of you is a sports bike or not. correctly known as race replicas, sports bikes are road-going versions of race bikes and come complete with full fairings, firm suspension, and highly tuned engines. This translates to mean that the performance a sports bike gives is nothing less than stupendous. Although a bit uncomfortable, sports bikes are the ultimate, purest form of motorcycling.
Here are a few tell-tale signs to help you identify sports bikes: full fairing, lots of RS, and most importantly, the rider wearing race leathers. Given the plethora of options available out there in the market, we understand how it can be a little difficult to choose the one best suited to you. To make even that easier, we have selected some of the best sports bikes for you to choose from.
1. Harley Davidson 2022 Nightster
2022 Nightster from Harley Davidson
The Harley Davidson Sportster has enjoyed immense popularity since its inception, and for good reason. And the same is what we now see with the all-new Nightster – a Sportster with a great modern sporting capability. Available in three colour options, the motorcycle is a leap forward in performance and design built upon a foundation that was laid down 65 years ago.
Experience a quick and nimble motorcycle with razor-sharp handling. Paying homage to its Sportster lineage, the shape of the airbox cover shares its profile with the classic Sportster model fuel tank and the Nightster is equipped with a 19-inch front wheel and a 16-inch rear wheel. The Nightster also features exposed dual rear shocks providing a critical style line at the motorcycle's rear. The sports bike has mid-foot controls and a low-rise handlebar for a comfortable posture. An attainable and easy-to-ride bike with a high-performance window, the ergonomics are great and the bike is powered by a 975cc liquid cooled, V-Twin engine producing 90bhp of power at 7,500rom as well as a peak torque of 95Nm at 5,000rpm.
All in all, the Nightster has more than just amazingly good looks on offer and we definitely approve if you wish to go ahead with the purchase.
2. Ducati Panigale V2
Sharp, chiselled looks, drop-dead gorgeousness, and a bike poised to sprint; are the words that come to our mind when we think of the Ducati Panigale V2. The Italian company has a great reputation when it comes to motorbikes, especially sports bikes. So, it was inevitable that the Ducati Panigale V2 also performed great.
The Panigale V2 offers the perfect synthesis of power and elegance and the use of the Inertial Platform has given the bike completely new look and refined electronics. The model is powered by the 955 cm³ Superquadro and delivers even better performance and is safer on the track. It comes in 2 colours and another commemorative Bayliss Special Livery version is available that was created as a homage to Troy Bayliss. The Bike has a dry weight of 176 kg and is built to both excite and surprise the rider both on-road and on track. It is lightweight, and high-performance and has a 955 cc Superquadro engine with a 90° V cylinder. With a horsepower of 155hp and a torque of 76,7 lb-ft, the bike is guaranteed to give you a smooth and enjoyable ride.
Our verdict: the bike has a lot of promise and the specs prove it. So, if this is the bike you like, you can go ahead and get it for yourself.
3. Aprilia RS 660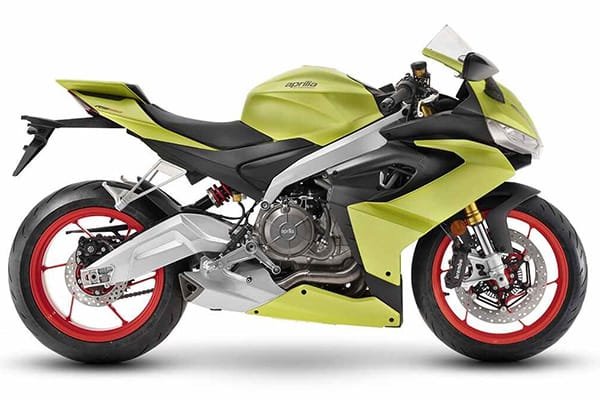 A bike that can be more correctly called a revelation, the Aprilia RS600 has succeeded in bringing both, a genuine, classy as well as an enjoyable road sportster that is great for even the relative novices.
With a short wheelbase and sharp steering geometry, the bike is lightweight and has a quality suspension that makes the bike perform brilliantly. It is also relaxed and comfortable and possesses excellent 'real-world' ergonomics. Drawing on the winning Aprilia expertise, the RS 660 introduces new standards to its category. The colour options further highlight the vibrant design and help the young, dynamic personality of the bike shine through. A compact bike with a sleek volume and a distinctive character, the bike delivers stability at high speeds. The engine is responsive and has a synchronized quick-shifter.
The bike is versatile, fun, and desirable for both the inexperienced and the experienced riders alike and has the typical Aprilia sporting edge, making it a brilliant choice.
4. Yamaha R15 V4
Long-lasting and super reliable engines are what characterise Yamaha Bikes. Possessing the best of class refinement, Yamaha has made its place in every bike fanatic's garage. The R15 V4 is another example of the brand's fine craftsmanship.
The R15 V4 is the 4th generation of the legendary R15, which shares its DNA with super sports YZF R1. It comes with 155 CC LC4V SOHC FI ENGINE WITH VVA equipped with a Traction Control System and a Quick Shifter. The quick shifter increases the comfort while riding the bike as the need to use the clutch or throttle before and after a gearshift is eliminated. The bike has a liquid cooled single overhead camshaft fuel injection engine that has a horsepower of 13.5kW(18.4PS)/10000r/min and maximum torque of 14.2N.m (1.4kgf.m) / 7500r/min. You get to enjoy great performance with superior control as15m comes with 282mm front and 220mm rear disc brakes with an Anti-Lock Braking System. The super wide 140mm tyre offers flexible side walls for better grip and the cornering and superior shock absorbing capacity ensure extremely comfortable rides. The design is ultra-cool and the Y-Connect app makes it possible for you to stay connected even while you're on the move.
With 3 colour options, the R15 V4 makes for a great choice for those looking for performance and looks. If this is the bike of your dreams, well, go ahead, you have our blessings!
5. Kawasaki 2023, Ninja 400
2023 Ninja 400 from Kawasaki
Kawasaki bikes are a true definition of power, stability, and performance handling as well as class-leading features and design. It is doubly true for the Ninja 400.
Comfortable enough to be taken out on long rides, the Ninja 400 is available in two colours that are gorgeous and make the design stand out among all other bikes. Coming to the highlights of the bike, the super cool graphics, liquid-cooled parallel-twin engine, lightweight trellis framework, the extremely comfortable riding position and the high-grade cockpit. That is not all, the twin LED headlamp, exceptional control and handling features, the instrumental cluster and its best in class assist and slipper clutch. What makes the bike such a comfortable ride is that the seat height has been designed keeping in mind a wide range of riders.
The reduced weight, lightweight clutch and splendid sporty finish make it a must-have bike in our opinion. If, like us, you too, feel the same, go ahead and get yours, no need to wait around!