Karan Johar's 50th Birthday bash left the celebrities with mentioning the night, have a peek at these controversial highlights!
On Wednesday, Karan Johar 50th Birthday bash was announced all over the media. He posted on his Instagram with immense excitement with his shimmery birthday outfit. He wore a green shimmery blazer and black suit, KJO's Birthday bash and no party theme? This is not possible!
Karan Johar's birthday bash theme was quintessentially bling, most of the celebrities 'understood the assignment but some of them dressed worst according to the theme. But take a glimpse at the Bollywood celebrities' dresses and highlights at Karan's Birthday bash.
Twinkle Khanna said "Ban Karan"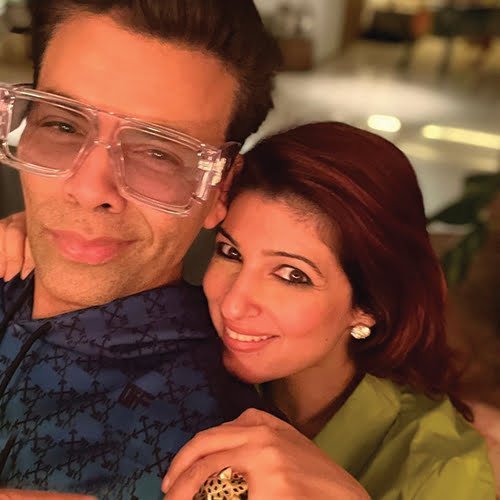 After Karan Johar's Birthday bash, Twinkle Khanna wrote "Ban Karan" on the internet.
Few days back, Twinkle Khanna posted Karan Johar expressing extreme love towards him and recently said "Ban Karan" after his last night party. It's a Blur, I hope I was well behaved. Maybe or maybe not. She said, everyone will be too drunk to remember. Ban Karan Johar, free drinks, parties, shiny skirts.
She called KJO drinks at the party as "Hangover tere free drinks ka! She mentions going to these parties once a year and she wonders how people do this every week! I doff my hat to you folks!
Ananya Panday's Bling outfit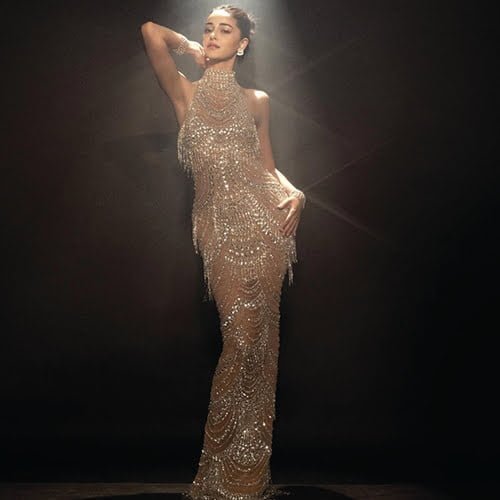 Ananya Pandey's glamorous outfit at Karan Johar's Birthday bash.
Ananya Panday was called "Kendall Jenner" by her closest friend, Shanaya Kapoor. Her recent shimmery outfit gown made us head turn over her nude, figure hugging and embellished sheer gown which was the highlight at the KJO birthday bash. This same gown was the highlight at the Met Gala and reminded us of Kendall Jenner outfit. This outfit gave the perfect glamour and bling exactly as Karan Johar's theme asked for it! Ananya Pandey understood the assignment.
Shah Rukh khan took the dance floor
King Khan set the dance floor on fire.
Karan Johar and Shah Rukh Khan again at the "Yash Raj studio". It was observed that Shah Rukh Khan was not much captured during the Red Carpet but he stole the spotlight at the dance floor. He was spotted grooving in his hit song Koi Mil Gaya, Karan's film Kuch Kuch Hota Hai.
At the Karan Johar's special day, we could spot Rani Mukerji, Kajol, Neetu Kapoor, Ranveer Singh spotted setting the dance floor on fire with the Karan Johar's Bollywood movies songs.
Malaika Arora with the OGs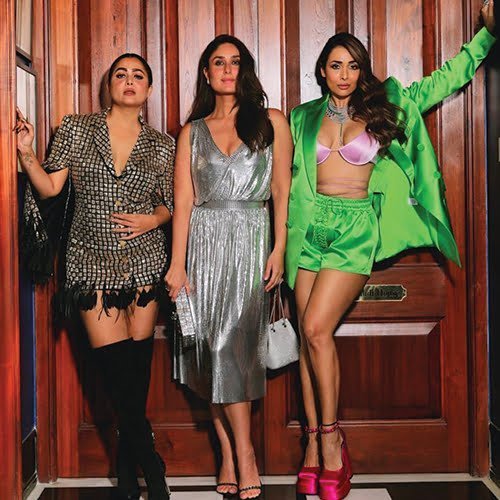 Malaika Arora's outfit at KJO's birthday bash is the "worst dress" ever.
Malaika Arora, the Bollywood fashion icon who was part of India's Next Top Model, disappointed us with her outfit. Karan Johar's worst outfit dresser Malaika Arora, she was spotted with neon green shorts and matching bold neon blazer and pink satin bralette top. She accessorized herself with Indian jewellery. She completed her outfit with a shimmery silver hand bag and pink heels, though the theme spoke about bling and shimmer but her entire outfit made it look like a complete 'disaster'. She was spotted at the party with Amrita Arora and Kareena Kapoor Khan (OG gang). Kareena Kapoor understood the assignment as she showed with a silver dress which perfectly fitted the bling theme.
Malaika Arora's dress at the Karan Johar's Birthday bash became the new troll material. A fan trolled, "Well Kareena does not have to show off her body to become famous but look at you Malaika. You are like Urfi doing everything to grab attention". Check below fans' reactions to Malaika's outfit.
Fans trolls on Malaika Arora's outfit.