Looks like netizens do not agree with Urfi Javed when it comes to fashion and styling.
The TV actress and social media celebrity Urfi Javed garnered most of her fame through the popular reality TV show Bigg Boss OTT. Although Urfi got immense popularity after the show, she was also the first one to get eliminated from the show. After Bigg Boss OTT, Urfi has been quite active on her social media and if you are aware of what we are talking about then you're going to agree with us on her weird fashion sense.
There have been numerous times when paparazzi spotted Urfi at several places like the airport or coming out of a restaurant and the reason why she is always in the headlines is simply her clothes and fashion style that she claims she designs and creates on her own. Sometimes the looks are thankfully decent but, the bold choice that the actress is known for is not very appreciated and mostly confuses people. The dresses that Urfi creates have raised the eyebrows of not just the netizens but also many Bollywood celebrities.
Here are some looks by Urfi Javed that were bizarre to another level and made netizens roll their eyes.
Wearing a sheet of plastic: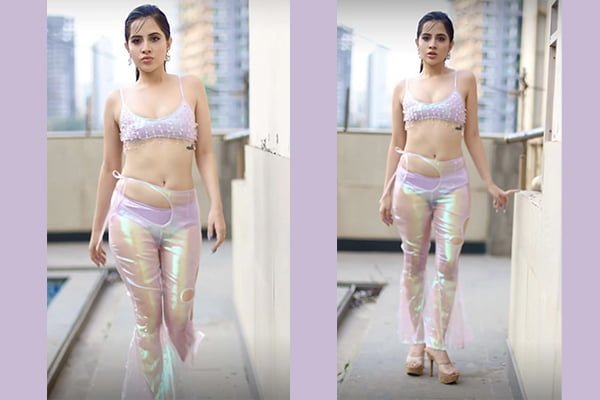 Would you wear this transparent dress?
Can someone please tell this girl that every experiment in the name of fashion is not stylish? Urfi was seen wearing this outfit where we can see mermaid pants which are shiny and transparent along with a bikini top in the lavender shade. The 'unique' outfit according to Urfi didn't make sense to netizens and we wouldn't disagree.
What are safety pins for?
A dress made with safety pins shocked the audience. 
To date, what I am aware of as the sole purpose of safety pins is to keep things intact. Urfi however, came up with this ridiculous idea of making a dress entirely with safety pins and we are still confused if that makes any sense. As she mentioned in her caption of the post, it took Urfi and her team 3 days to make this so-called 'dress' and is something crazy.
Can you wear cotton candy?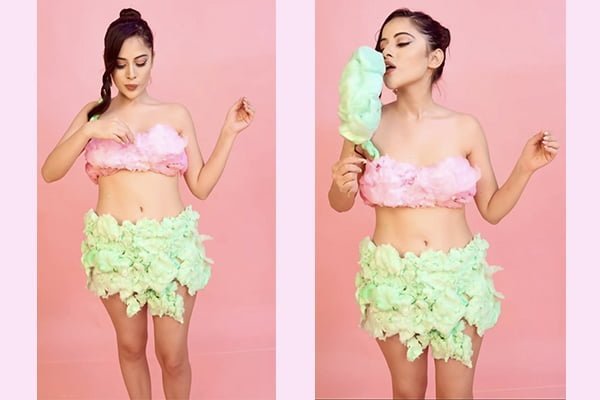 Urfi Javed in her yet another unique dress. 
If you are wondering why we are asking if you can wear something edible like cotton, then you need to take a look here at this abnormal dress that Urfi Javed is wearing. The entire dress made out of cotton candy left everyone stunned, especially when in her social media video, Urfi was seen eating the cotton candy out of her dress. Well, we understand that it's one's choice to carry clothes of their preference, but shouldn't they be practical enough?
When Urfi went topless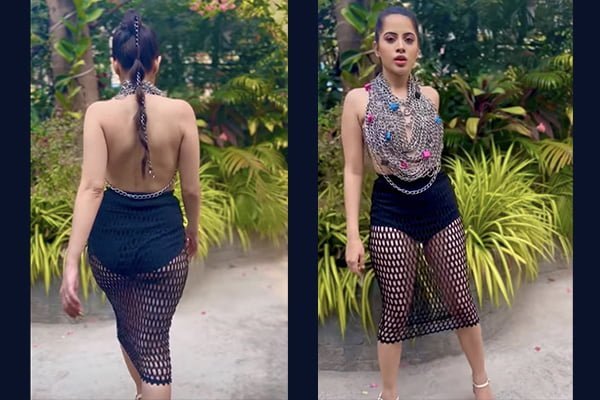 Does your neck also hurt just by looking at this picture? 
Yes, Urfi Javed decided to go topless on one of her shoots and all she was wearing was full coverage underwear and a net skirt. Well-well, she wasn't wearing a top but she covered her body with heavy metal chains and we don't know why. After this day, Urfi even posted a picture on her Instagram stories where red marks of these chains on her neck. So next time, we hope she is careful with her dressing choices.
I can't walk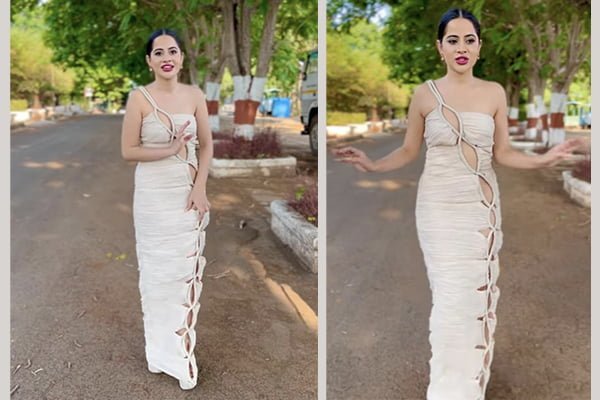 Urfi could barely walk wearing this off-white dress. 
Don't make decisions that you regret later – and this is the lesson that Ms Urfi should learn from this dress. While wearing and going out in this dress paired with high heels, Urfi was barely able to walk in her off-white dress and was brutally trolled.