South Actor Nani released a poster of his upcoming emotional drama untitled film 'Nani 30' on his social media account 
Natural Star Nani always bring something fresh and interesting since starting of his career. Earlier he used to make films in the Telugu language only which were dubbed later for the Northern Belt Audience. After a successful run of his latest film, Dasara which is a Pan India Film, Nani is again ready to surprise his fans which his latest announcement 'Nani 30'.
'Actor Nani' during the promotion of his film 'Dasara'.
Natural Star Nani is among the few actors who is beloved by both mass and family audience. The actor is currently basking in the glow of his most recent release, Dasara, which exploded at the Box Office. Over 100 crore rupees are made from the movie. In the midst of Dasara's commercial triumph, Nani is currently working on his upcoming film, Nani 30, which will also co-star Mrunal Thakur in the lead role opposite Nani. If we talk about the basic storyline of the film then, The father–daughter relationship will be the central theme of the film. The film is written and directed by debutant director Shouryuv under the banner of VYRA Entertainments.
The actor took his social media to share the latest released poster of Nani 30, the released date is announced on a poster that partially features Nani's face and his on–screen daughter. "2023 had to end with a celebration DECEMBER 21st #nani30", Nani in his Caption. The shooting is now taking place in Goa. Now that the film's release has been announced, Nani has astonished his fans. As a result, Nani 30 will premiere on December 21st, 2023, worldwide.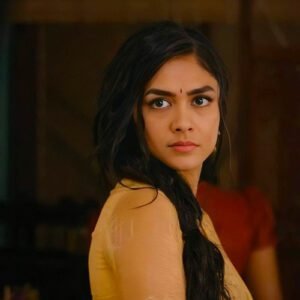 After Sita Ramam, Mrunal Thakur has now become a new B-Town Crush.
It is expected that the film will be an emotional family drama film with all the elements of romance, drama, comedy, and emotions. The buzz is already among the audience as Mrunal Thakur is signed opposite Nani, who already made a huge fan base for herself after Sita Ramam. As per the report, Angad Bedi might also share the screen with Mrunal Thakur and Nani.
Earlier this year, a video of Nani and his on-screen daughter having a touching dialogue served as the movie's announcement in January. The actor, who has been sporting his Dasara style with a thick moustache and beard, declared in the video that he would clean shaven for the next movie.
Nani and Keerthy Suresh's Dasara crossed 100 Cr. worldwide.
Apart from Dasara, other films of Nani that impressed the audience in the northern belt a lot are 'NENU LOCAL' (In Hindi Suoer Khiladi 4), 'DEVDAS' (Don aur Doctor), 'JERSEY' (Jersey), 'EEGA' (Makkhi), and Shyam Singha Roy.
On the work front, Mrunal Thakur will be next seen in Pooja Meri Jaan with Huma Qureshi and Vijay Raj, Pippa with Ishaan Khattar, Aankh Micholi with actors like Paresh Rawal, Divya Dutta & Sharman Joshi and at the end of the year, she will be seen with South Natural Star Nani.