These South Movies have shaped South Industry in a very new way that makes everyone their fans. Read to know more
Today, South Movies are seen in a very different way. the whole scenario of the South Film Industry is changed due to some films which in a gap of a few years. Here, is the list of some movies that are given by the South Directors to the whole world.
Baahubali: The Beginning & Conclusion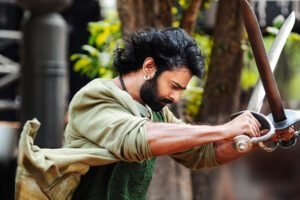 Prabhas also called 'Darling' by his fans.
Baahubali is not just a movie, it is the gate for South Movies that opened a door for them in Northern Belt too. Before, Baahubali there were many films that were seen by Northern Audience but as dubbed versions of them. Baahubali was the first film to release in Pan India and create history by collecting more than 600 crores at the box office worldwide at the time of its release.
The film was made at a budget of just 180 Crores and becomes a record-breaking film at that time. Even the characters of the film became iconic in the history of Indian Cinema. From the story, direction, cinematography, and music to performance the film received nationwide praise and become one of the most successful film in Indian Cinema.
RRR
Alia Bhatt, Ajay Devgn, and Shriya Saran were also seen in the movie.
A film that once again shows the capability of S.S Rajamouli's Direction and vision. This epic Drama Film beautifully showcased the essence of friendship and patriotism at the same time. Ram Charan & Junior NTR starrer RRR is considered the most expensive Indian till date.
The movie was worldwide praised for its action sequence, performance, and writing as well as for its dance number 'Naatu Naatu'. The song has become so much popular that it brought Oscars to India, along with several awards for the film.
Kantara: A Legend
As per reports, Actor/Director Rishabh Shetty will bring Kantara Sequel.
Kantara: A Legend is a story about Shiva, a Kambala Champion who is at odds with Murali, an honorable forest Officer, in the movie. Rishabh Shetty, Actor & director of the film gave a statement about the movie that, this movie is based on stories that have been passed down through centuries and are deeply ingrained in our culture.
It comes from our country and our roots. Shetty wanted to showcase the fight between nature and humans. However,  he also stated explicitly that the conflict between forest authorities and locals in his birthplace of Keradi, Karnataka, in the 1990s served as the film's inspiration. The movie got mostly positive reviews from critics who also praise the acting of Shetty and the Cinematography of the film.
The interesting trivia about the film is that the film was made only on a budget of 15-16 crores, and earned up to 450 crores as a lifetime collection.
Mahanati
Keerthy Suresh and Nani starrer 'Dasara' will soon release on Netflix, Trailer is Out Now.
Mahanati is a biographical film based on the life of South Actress Savitri. Directed by Nag Ashwin and Produced by Vyjayanthi Movies was released on May 2018 which also dubbed in Tamil with the title 'Nadigaiyar Thilagam' and in Malayalam as 'Mahanadi'. The film stars Keerthy Suresh as, Mahanati, and Dulquer Salman as Shivaji Ganeshan in the lead role while the film also features Samantha Ruth Prabhu & Vijay Deverakonda.
The story recounts Savitri's life, showing her tumultuous climb to fame, marriage to Ganesha, and eventual fall from grace. The story's journalist and photographer are respectively portrayed by Samantha and Deverakonda. This critically acclaimed movie has also won 3 national awards for Best Feature Film in Telugu, Best Actress, and Best Costume Design.
Kaartikeya 2
Karthikeya 2 fame Nikhil and Anupama were also seen together in 2022 Film '18 Pages'.
Nikhil Siddhartha, Anupama Parmeshwaran, and Anupam Kher starrer Karthikeya 2 was released on 13 August 2022 after so many delays due to Covid-19. This Mystery Action Adventure Film follows the story of Dr. Karthikeya played by Nikhil, who is looking for Lord Krishna's misplaced Anklet.
With a budget of 15 crores, the movie successfully collects more than 100 crores. Karthikeya 2 was released with positive reviews from both the critics and the audience. After its theatrical release, the movie is now streaming on Zee5.
Vikram
Kamal Hassan was awarded Padma Shri and Padma Bhushan for his contribution in Indian Cinema.
This 2022 Action Thriller Film, starring Living Legend Kamal Hassan, Vijay Sethupathi, and Fahadh Faasil along with Narain and Kalidas Jayaram as supporting actors is the second film in the Lokesh Cinematic Universe (LCU), following Kithi which was released in 2019, and is a spiritual successor to the 1986 movie of the same name. As they take on the drug trafficking organization Vetti Vagaiyaara, it follows former military agent Arun Kumar Vikram and his Pilot Black Ops Team.
The film was theatrically released in the Hindi language also under the title 'Vikram Hitlist'. The film was highly praised for its direction, action, performance, and for music which was composed by Anirudh Ravichander. Vikram Hitlist can be watched on Disney Plus Hotstar.