Read At Your Own Risk! As This Can Be Really Addictive And Calls For A Night Or Even More!
The festival season is here and it is time to embrace Yuletide spirits. As cinemas go all-out to add a Christmas sparkle with shows and films. As we gear up to binge on Christmas movies, snuggled in a blanket with a cup of hot chocolate, here are upcoming 2 new attractions that toast a happy ending to the year, and spread good cheer. Whether you're looking to get a megadose of the holiday spirit or just need a quick escape from family time, the popular upcoming streaming has got you covered!
Your Christmas Or Mine?
It's official: Christmas film season is finally upon us. We have some new festive film to dive into. Amazon Prime's latest offering, Your Christmas Or Mine is starring Sex Education's Asa Butterfield in a leading role in this wholesome family swap comedy where a couple finds themselves in each other's families for the Christmas holidays. You may also spot some other familiar faces in this movie. It starts with the young couple very much in love, the two protagonists are getting ready to spend Christmas with their respective families. Moments after saying goodbye at a train station in London, they both make a split-second decision to swap trains and surprise each other. It wouldn't be a holiday flick if you didn't know they'll probably find a way back to each other in time, somehow. But that's the wholesome appeal of Christmas movies, right? Spoiler alert: Emily in Paris' Lucien Laviscount, also stars in the movie!
Emily In Paris Season 2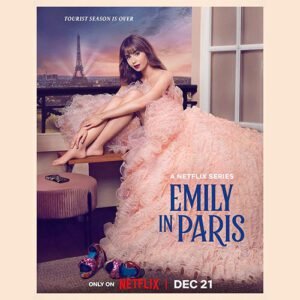 Miss Cooper is back in the game! And one couldn't be more excited to see what is in the store for Lily Collins' fashionable character in the City of Love when season three drops on December 21. Over a year Netflix subscribers were delighted with season one of the show, which sees its lead Emily Cooper navigating her marketing job, complicated love life and friendships in Paris, in December 2020, the streaming platform released season 2 of the programme ahead of Christmas 2021. In season 3 there are definitely more love triangles, more drama, more laughs, more fashion, more locations, and more France! The fashion is just on-point and unapologetic as it was in previous seasons. Spoiler alert! – Alfie is also there for more drama. This season also sees Emily making difficult career decisions too, as her boss Madeline makes her an offer that would require her to leave Paris – and her romances. We're used to seeing Emily's bold fashion choices and this season also shows her making a daring decision when it comes to her hair. This season definitely calls for binging the whole night!