Among The Famous Casino Games, Blackjack Is One That Has Always Stood Out In The Crowd! Here Are Some Top Variations You Need To Know, So Hop In.
The experience of entertainment is a pleasurable moment to be expressed in our hearts. All casino lovers have just one thought in mind when they hear entertainment i.e., CASINO. It's impossible that you went to a Casino and don't know about Blackjack. This casino banking game has the best odds of winning. And as the year 2022 is ending, it's a sign to learn some variants about your all-time favourite game. Because then, you don't have to sit idle and feel left out in the upcoming game nights. So, without any further ado start taking notes because we have got the best Blackjack variants for you!
Classic Blackjack
Without any doubt, this version is a gambler-favourite for good reason. The house edge is low,the rules are relatively easy to pick up on, and it's more social than poker. As we mentioned, the house's edge is low. With that being said, it's important to recognize that just because you see that very appealing 0.5% edge number, it doesn't mean you're taking advantage of it in its entirety. The famous 0.5% that is constantly tossed around when looking at games with the lowest house edges assumes that you're making all the right moves. The good news is that it isn't particularly difficult to learn what the right moves are, but it does take a little bit of practice. Players go against the dealer attempting to reach 21, or be the closest to 21, without getting more than 21. Each player receives two cards and has the option to "hit" (get another card) or "stay" (keep their current cards only). If anyone, player or dealer, gets cards that equal more than 21, they "bust" and lose the hand. In the end, if you choose classic blackjack as the standard version, you're going to give yourself a good chance to win some money.
European Blackjack
First up, is the European Blackjack parallel to roulette, offering slightly better odds to players than its American (or generally standard) counterpart. European blackjack is typically played with two decks of cards. This means the cards are more predictable than other versions of blackjack that incorporate a half-dozen or more decks. Another component of European blackjack that makes it more favourable to players is the ealer stands on soft 17. A few more qualities that set European blackjack apart are dealer blackjack vs. player blackjack results in a tie or push. Players can only double down when their cards are showing 9, 10, or 11. And finally, blackjacks pay 3:2. We'll spare you the equations, the result will show that the house edge in European blackjack comes in at 0.39%. In other words, it's about 20% lower than classic blackjack.
Perfect Pairs Blackjack
For those players who think that a great betting strategy is more important than a great playing strategy, Perfect Pairs blackjack offers a unique opportunity to win big. It has the same rules as classic blackjack, with a betting twist. At the beginning of each hand, players can make an extra side bet. This side bet is a gamble on whether or not the first two cards to deal will be of the same number. You might be wondering, "Betting on two cards being the same seems like a long shot. What's the payout if I take the risk?" We are glad to tell you that if your pair contains any two cards of the same value (meaning just the number or the same face card), you get paid out at 5:1. If the two cards are the same value, same colour, but different suit, you get paid at 10:1. The big jackpot win comes now! If the two cards are the same rank and same suit (keep in mind multiple decks are used, so this is possible). If you hit a "Perfect Pair," you get paid at 30:1. It's just regular blackjack with the opportunity to take a little risk on the side.
British Blackjack
So next up we have Pontoon a British Blackjack. It has a few twists that make the game slightly more interesting and strategic. The biggest difference in this casino version is that players can see one card first before making their bets, and can increase their bets during the hand itself. A hand of Pontoon with all players dealt one card; then they can choose how much to bet on the hand. Then the second card is dealt and the game generally proceeds very similarly to standard blackjack, except with different terms, such as 'twist' instead of 'hit'. If the player has a higher hand than the dealer, he wins, with one notable exception – if the player has five cards that equal 21 or less, he automatically wins double his bet! Thus, it is a variation of Blackjack which grew in popularity significantly over the years.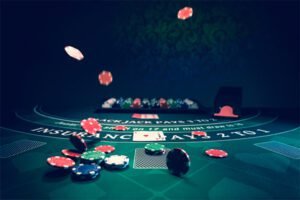 Double Exposure Blackjack
Last but not at all the least, Double Exposure Blackjack is the favourite among blackjack players as it is one of the few blackjack variations that actually increase the odds for the player. Because of this, it is quite rare, as most casinos would rather not let players play blackjack variations where they are able to win more money. So, if you ever do find one of these tables, quickly sit down and play. Double Exposure Blackjack proceeds exactly like a regular multi-deck blackjack game, with one huge difference – both of the dealer's cards are exposed, so everyone knows exactly what the dealer has before they make a decision. Of course, this gives the players a huge advantage, so there are a few other rule changes to balance the game back in the casino's favour. Insurance, surrender, and multiple splits are not allowed and the player and the dealer both have a blackjack, in which case the player will be returned their stake. Winning blackjacks are also only paid out at even money (1:1). This is a fun variant to play if you prefer something different, and the overall house edge isn't much different to other blackjack variants though.