After so many controversies, finally, CBFC has given the clean chit to OMG 2 with an 'A' Certificate but ordered to modify some scenes and dialogues. Deets Inside 
The long-awaited OMG 2 trailer, featuring Akshay Kumar, will premiere tomorrow, as announced by Kumar a few minutes ago. Akshay Kumar is expected to reprise his role in the follow-up, and Pankaj Tripathi will take Paresh Rawal's place.
The follow-up to the 2012 film OMG: Oh My God, directed by Amit Rai, is titled OMG 2. Arun Govil and Yami Gautam Dhar play significant parts in the satirical drama.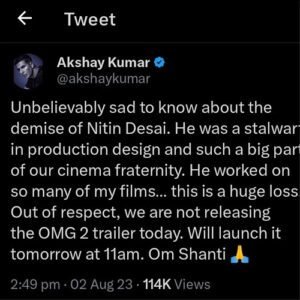 The Central Board of Film Certification has granted OMG 2 an 'A' (Adult Only) certificate in advance of the publication of its trailer. Although the CBFC requested more than 27 changes to the picture, the certificate was nonetheless given to the movie on Tuesday, August 1. According to the certification, the movie has a runtime of 156 minutes and 10 seconds (2 hours, 36 minutes, and 10 seconds).
Akshay portrayed the role of Lord Krishna in the 2012 movie, but in OMG 2, the actor is anticipated to play the part of Lord Shiva, which would also vary based on CBFC restrictions provided to the producers.
OMG 2 dives into the life of Lord Shiva devotee Kanti Sharan Mudgal. Lord Shiva appears to him in a human shape and assists him in overcoming his difficulties during this trying time.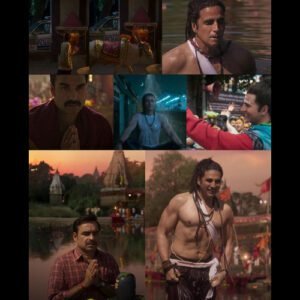 According to reports, the alterations include the removal of frontal nudity images and their appropriate replacement with images of Naga Sadhus. The list of alterations also includes the monologues that refer to drinking alcohol as a sacrifice to God. The list advises the filmmakers to cut the movie's condom advertisement poster. The appearance of the so-called "sculptures of unnatural sex" is also intended to be changed.
Last month, the movie's producers unveiled a one-minute, 26-second trailer that gave viewers a look of Pankaj Tripathi's devotee and Akshay's portrayal of the Lord Shiv Avatar. Along with the teaser, the film's creators also unveiled the song Har Har Mahadev, in which Akshay Kumar displayed a potent "tandav" dance.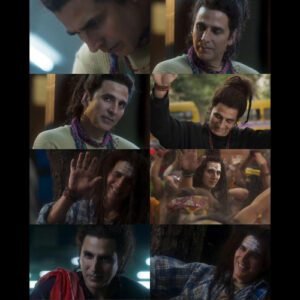 According to news agency ANI, a monk from Ujjain requested that some parts from OMG 2 that were filmed at the site be removed. This led to a dispute before the film's release.
"Oh My God 2 has received a "A" certificate from the censor board. We urge that certain scenes that were shot in the Mahakal Temple be deleted because they can hurt viewers' religious sensibilities, the priest Mahesh Sharma told ANI.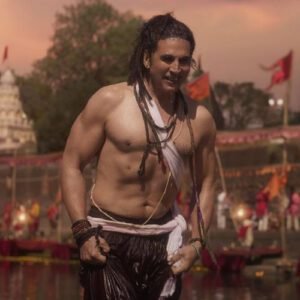 On August 11, the social comedy-drama OMG 2—which tackles the subject of sex education—will be released in theatres all over the world.