This Valentine's Day, Celebrate Love With Some Special Gift Ideas For Your Batter Half.
As we enter the week of love and soon on February 14, we'll celebrate Valentine's Day, it's time to gather all the love in the air and shower it on your loved ones in the form of a special gift. While the day is significantly dedicated to lovers and couples, everyone and anyone you love deserves a gesture that makes them feel special on this special day.
There is nothing in this world like love. Intimate dinner dates, some specially made efforts, and some thoughtful gifts, this day is all about expressing your love to your s/o on this extra special day. While there are many ways to celebrate Valentine's Day, the hard task is to pick the right gift for your beau. But we assure you that you don't need to sweat because just like every occasion, we are here this time as well with the compilation of the perfect gift ideas for your lover. Be it him or her, here we have mentioned some noteworthy and thoughtful gift ideas you can opt for this Valentine's Day.
Custom minimal portrait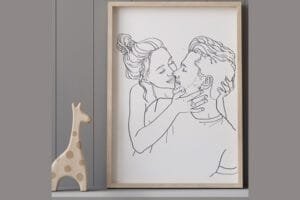 This personalised couple's photo is cute without being corny. It will amaze you to see how the artist has portrayed you in a minimalistic style. Who's stopping you from taking advantage of the chance to get one for you and your love and make them feel special with a beautiful picture? It may also make a wonderful 6-month anniversary gift.
Personalised acrylic song with a picture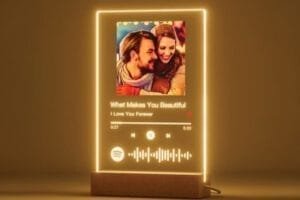 Every couple has a special love song with a special memory attached to it. It's time for you to choose the song and image that mean the most to you two. When he scans the Spotify code, the song immediately begins playing on his phone. You may also make one with his/her solo picture.
Long-Distance Touch Bracelet Set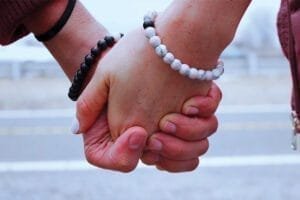 This wearable will appeal to a sentimental partner because it gently vibrates to let the other person know you are thinking of them when one person taps their bracelet.
The sexy Truth And Dare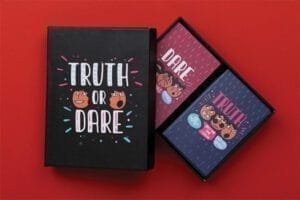 The after-dark version, which asks you both to respond to provocative suggestions like stripping off each other's clothes without using your hands or disclosing one of your more surprise turn-ons, is the version to choose if you really want to spice things up. And we would advise that you really do add some sexiness to your relationship.
Craft beer gift box for him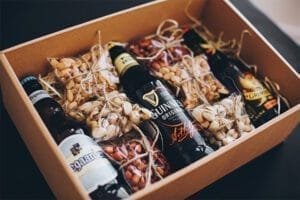 Everything a beer fan could want in a present. The best of the best beers are always sought after by beer lovers. You may anticipate some amazing, small-production craft beers in distinctive and various flavours with the help of some extremely lovely craft beer gift boxes offered by certain well-known beer companies. also, the package is lovely.
Wireless Charging Station
He will be able to simultaneously charge all of his Apple devices, including his iPhone, Apple Watch, and AirPods, with the help of this wireless charging station. What a word for efficiency!