Ponniyin Selvan Part 2 realeased worlwide on April 29 starting Aishwarya Rai, Vikram, Trisha, Karthi, Sobhita, Aishwarya Lakshmi, & Jayam Ravi 
Genre: Period Drama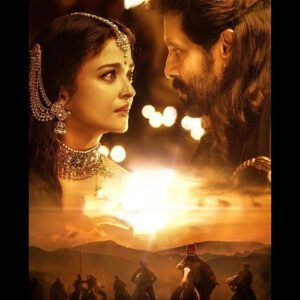 Chiyaan Vikram & Aishwarya Rai was also worked together in 2010 film 'Raavan'.
Introduction: Ponniyin Selvan Part 2 is a epic historical action adventure film directed by Ace Director Mani Ratnam on the budget of 500 crores. The film hit the screen on 28th April all over India in Tamil languages, and dubbed in different languages like Hindi, Telugu, Kannada, and Malayalam.
Ponniyin Selvan is a story that is related to our Indian History and which must be known by every Indian. We have taught about Chola Dynasty in school but we never gave much importance to the ancient history of our own country.
Ponniyin Selvan 2 (PS 2), directed by Ratnam, demonstrates how historical dramas can still be produced without overly depending on large, extravagant action sequences and instead relying solely on drama that holds your attention till the very end.
Plot: PS 1 was already streaming on Amazon Prime Video and the story picks up where the first chapter left off after a backstory on how Aditha Karikalan and Nandini originally became friends as youngsters. All of the schemes are derailed when Arunmozhi Varman (Jayam Ravi), who was thought to be dead, reappears. Vandhiyathevan (Karthi) finds out that Nandini (Aishwarya Rai), the brains behind attempts to topple the Chola kingdom, is the one behind them. On the other hand, Aditya Karikalan (Vikram) readies himself to confront Nandini's power, who has played a key role in waging war against the Cholas.
The lifetime collection of PS 1 was above 500 Cr. 
Whether to watch or not: If you are planning to watch Ponniyin Selvan Part 2, than this film is must watch for you specially if you have an interest to know the history through the camera lens. Kudos to Mani Ratnam Sir, who brought up the 5 volume novel book 'Ponniyin Selvan' written by Kalki Krishnamurthy in just 2 part of the movie. Every actor in the have just moulded themselves in their character, be it Aishwarya as Nandini or Cheeya Vikram as Aditya Karikalan.
If you love watching South Cinema thankyou can easily know the screen of both this characters from their first film together which was also directed by 'Mani Ratnam'. This film take you beyond history of Rajput and Mughals. Apart from the advantage of having such a talented star cast and Ratnam's direction, A.R Rahman's music will keep to hold through the movie.
The Revenge, Love, Family, Politics, every eleme6of this film will keep you hook to the film. The real locations used in the film is making this film more raw and authentic. But, yes if you haven't watch PS 1, it would be difficult for you to break down the story of PS 2. So, before watching PS 2, you have to first part of Ponniyin Selvan.
Mani Ratnam's Ponniyin Selvan is based on the 1954, 5 Volume Novel Ponniyin Selvan written by 'Kalki Krishnamurthy'.
Stars: 4.5/5
Bonus: Ponniyin Selvan Series is the First Tamil Film which was released in IMAX and is receiving positive response from the Critics and audience too.