Filmmaker Mani Ratnam's much-anticipated sequel of the historical drama Ponniyin Selvan II (PS II) trailer was released on Wednesday. 
After the huge success of the first instalment of PS I (Ponniyin Selvan I) filmmaker Mani Ratnam is set to deliver the sequel of this much-awaited historical drama film Ponniyin Selvan II. Makers of the film launched its trailer as well as audio in Chennai Nehru indoor stadium on Wednesday. South star Kamal Hassan presided over as the chief guest at the event. This epic action-thriller movie PS II on a Chola dynasty will hit theatres on 28 April. This movie will be released in five languages Tamil, Telugu, Hindi, Kannada, and Malayalam.
The PS II trailer launch is attended by the entire cast. This movie stars Aishwarya Rai Bachchan, Vikram, Karthi, Trisha Krishnan, Sobhita Dhulipala, Prakash Raj and Jayan Ravi. This three-minute-long trailer gives us a glimpse of some breathtaking visuals and the Fiery background score given by A.R. Rehman which proves why he is a legendary composer. All the characters have an equal presence and strong role in the film. However, Aishwarya Rai Bachchan grabbed all the attention in the trailer. She plays the role of Nandini who wanted to take revenge for her father's death from the Chola dynasty.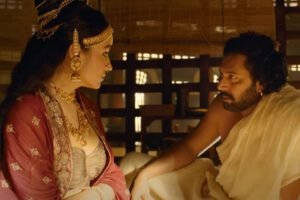 The trailer begins with the new king of the kingdom announcement after the apparent death of Ponniyin Selvan and later scene cut to, Aditha (Vikram) sitting at the stairs.  Meanwhile, Aditha is offered to rule half of the Chola Kingdom. While power transfer chaos happening, we spot the titular character of Arulmozhi (Jayam Ravi) is still alive, as Kundavai (Trisha) asked him who saved his life.
Then, the scene cut to Nandini (Aishwarya Rai Bachchan) and Oomai Rani who jumped into the river to save Arulmozhi's life. At the end of the trailer video, the action reaches its peak and the beautifully shot when Nandini comes face-to-face with Aditha Karikalan. She points her sword towards him with her shaking hands as Aditha has a soft, long expression on his face.
PS II is the second instalment of PS I which was released last year on 30 September and experienced great commercial and critical success. Apart from getting good reviews, the film grossed over 500 crores.
The story is based on Chola's internal conflicts in the 10th century. PS I ended on a mysterious note last year, where we see Arulmozhi's battle death, even as Oomai Rani jumped into the river to save him. PS I story is adapted from a Tamil Novel written by Kalki Krishnamurthy of the same name. Ponniyin Selvan II's movie is produced by Lyca Productions and Madras Talkies.