The performance of Priyanka Chopra Jonas in Citadel adds another feather to her achievements. Read out to know more.
A much-awaited show "Citadel" is streaming on Amazon Prime Video from 28 April. The show is a spy-thriller drama starring Priyanka Chopra and Richard Madden. Whether in a stunning outfit or an action scene, Priyanka Chopra Jonas owns every frame with her looks and acting. She beautifully pulls off every action sequence or talks like a siren. Same as Richard Madden, who gives his best as a Mason. 
Despite their best efforts, the show still seems lagging. From actors and action to sets and locations, everything seems simply beautiful and very well shot. Yet, some parts make this show average.
Priyanka Chopra Jonas owns every frame with her looks and acting
Citadel's first two episodes hook you to the series, all the explosions, actions, and secrets. After the third episode, you stop expecting this spy-thriller drama to be a genre-defining saga. In simple words, this prime video multi-million dollar project has the same common story of nuclear codes, amnesia, spy tech, villain, briefcase, etc. 
The story is set around two good-looking spies, who have a romantic connection in the past. They reunited after years of losing their memories that they are spies and had accomplished many missions together. How they again get their identity back and smashed all the baddies.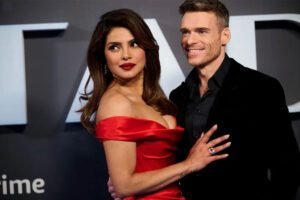 Richard Madden also did justice with his role
Unfortunately, Russo Brothers' Citadel is not up to the mark. It is a multi dollars project of Prime Video, which has spin-offs in Italy and India. This show has a generic network TV quality which gives us the vibe of Quantico. The Indian adaptation of this show is directed by Raj & DK and features Samantha Ruth Prabhu and Varun Dhawan.
However, the direction of the show is brilliant. There are some scenes that are splendidly shot, for instance, there is a scene where she is tied & tattered, slashing the pervert, the way she swung her gun. She gets slammed by a goon into the table, after that she charged up and fights back. While Richard Madden did justice with his role as a Mason Kane. A simple guy who happens to be a spy and does action scenes really well. The chemistry between Richard and Priyanka is fire.
Overall, it's a one-time watch show with good action sequences and casting.