From Arun Govil To Gurmeet Choudhary, a list of some actors who played Lord Ram on-screen and impressed the audience. Read Out
The Indian Sanskrit Scriptures give Lord Ram great significance, and he is renowned for his serenity and reverence, both of which must be exhibited by the actors portraying him. Though it is not easy to portray the character of Lord Ram, there are some actors who played their part beautifully.
Let's find out some actors who succeeded in gaining the trust of their audience and left a lasting impression.
Arun Govil
Ramanand Sagar's Ramayan was top on the TRP list during Covid Pandemic. 
Arun Govil's portrayal of Lord Ram in the iconic television series of Ramanand Sagar 'Ramayan' holds a special place in the heart of millions of viewers. It also gave immense popularity to the actor at that time when it was released in 1987. He perfectly captured the essence of the character's justice, dedication, and humility. He brought forth the characteristics and values associated with Lord Ram.
He played his part so expertly that even more than three decades after beginning to play it, his persona is still adored and remembered, having become ingrained in the collective mind of the Indian Audience.
Sumedh Mudgalkar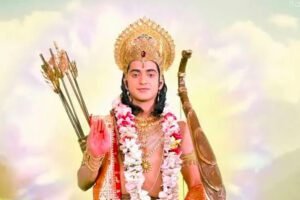 Sumedh Mudgalkar was last seen in SAB TV's show 'Ali Baba: Daastan-E-Kaabul' as Hatim Tai. 
Sumedh Mudgalkar is better known for his portrayal of Lord Krishna in the Star Bharat Show 'Radha Krishna'. But, he also even played Lord Ram in a particular segment on Life of Lord Ram. The way he created his commanding screen presence, dialogue delivery, and emotive expression, made his portrayal as Lord Ram immortal.
Ashish Sharma
Madirakshi Mundle debuted in 2015 with Siya Ke Ram on Television. 
A well-known face of the television industry, Ashish Sharma's role as Ram in Siya Ke Ram along with Madirakshi Mundle was well received by the audience. Given that Sita was a narrator, this play offered a distinctive interpretation of the Sanskrit Epic. The Production Company covered the entire plot in 326 episodes which were broadcast for about a year. It was one of the most successful Television Series aired on Star Bharat.
Himanshu Soni
Himanshu Soni is better known for portraying Mythological Characters on Television.
Himanshu Soni portrayed the character of Lord Ram in the Colors TV 'Ram Siya Ke Luv Kush' which focused on the journey of Lord Ram Sita through the lens of Luv and Kush who were the sons of Lord Ram and Sita. The show and his portrayal won millions of hearts across the nation. The show starred Shivya Pathania as Sita, Harshit Kabra & Krish Chauhan as Luv-Kush respectively.
Gagan Malik
Gagan Malik was last seen in the 2020 Sony TV show Vighnaharta Ganesh.
Gagan Malik portrayed Lord Ram in the 2015, Sankat Mochan Mahabali Hanuman which was aired on Sony TV, and his portrayal in the show was well-received by the audience and viewers also praised her acting skill as a Great King Ram. The show was aired from May 2015 to August 2017 on Sony TV.
Gurmeet Choudhary
Gurmeet Choudhary is now a father of two daughters, Lianna & Divisha.
If after Arun Govil, there is any actor who was at his best in the portrayal of Lord Ram and known for years, then it is Gurmeet Choudhary. Still today, Gurmeet Choudhary is famous for his portrayal of Lord Ram. In the immensely successful 2008 television series Ramayan, which has gained enormous popularity in epic tales, Gurmeet Choudhary played the character of Lord Ram. He became well-known and developed a devoted fan base as a result of the audience's reaction to his portrayal of the noble and upright character.
Now it has to be seen how much Prabhas can justify Lord Ram's character. Will he pass this test or fail in his most anticipated film "Adipurush"?