Fashion sensation 'Zendaya' will not show up at the Met Gala of this year. But check out her previous glamorous Met Gala outfits, here!
Sassy Zendaya made her debut as a singer and later as Hollywood actress. Her amazing acting in the movie highlighted her character, she was part of Spider-man homecoming, Dune, Malcolm & Marie, The Greatest Showman and others. She was awarded for her famous character, Rue Bennett in the series Euphoria.
Zendaya is spotted in lots of fashion shows and she was ranked as "best dressed women" in 2018. Though her Met Gala outfits has always stunned the audience, if we look back to some of her elite Met Gala dresses she has sparked her outfit according to the theme. Here are some of her best Met Gala outfits, look below!
Zendaya 2017 Met Gala outfit.
Zendaya Met Gala outfit in 2017 the theme was announced by Metropolitan Museum of Art this grand theme was Rei Kawakubo/Comme des Garcons which means art of the In- between. She carried a glamorous artistic look; she wore a striking color red and yellow. Her grown had a print pattern and even with this theme she made an eye-catching appearance.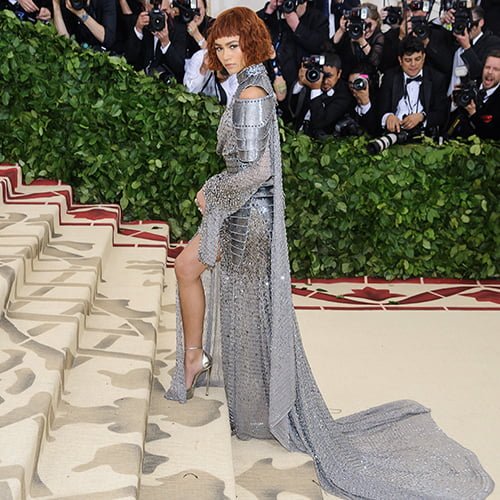 Zendaya "Joan Arc look" in 2018 Met Gala
Zendaya Met Gala glamorous appearance in 2018 took place in New York City. In 2018, theme was "Heavenly Bodies: Fashion and the Catholic imagination. The red-carpet Grand entries of celebrities does bring a glamorous and unique look to fashion and so does Zendaya bring a beautiful twist with her outfit "Joan Arc look". It gave a warrior outfit look which highlighted her boldness.
Zendaya cindrella iconic Met Gala outfit.
In the 2019, Met Gala the theme was Camp: Notes on Fashion, she made a splendid appearance with a Disney character. She was a character named Cinderella. Zendaya even wore glass sandals and her gown lit up at the Met Gala.
Though her Met Gala appearance in this year 2022 will not be noticed, she has clarified to not be part of it. In her recent interview she was asked to share a glimpse of idea about her Met gala outfit, she revealed I do not want to disappoint my fans but I will be working. Your gurl gotta make movies, I wish everyone the best.
Zendaya will be coming with new movies.
Zendaya added, I will be back eventually. Though when the interviewer mentioned about the red-carpet appearance, she responded with I will keep on delivering in other ways. Though she has not yet confirmed her up-coming appearance in the red-carpet as well.
Zendaya surely will not be seen in Met Gala 2022 but her blockbusters movies and characters is what we are excited for! The fashion icon "Zendaya" grand appearance is not confirmed for 2023 as well.
Zendaya and fashion both goes together, check out her recent post with Euphoria cast. Euphoria members such as Alexa Demie, Sydney Sweeney, Barbie Ferreira, Hunter Schafer and Eric Dane were spotted in the same set. Zendaya was captured with a grey suit and this fashion queen knows exactly how to carry "boldness" in her sleeves.