modelThe Queen Of Looks That Could Kill, Meet Our FHM Cover Star For This Month, Kyra Marie. She Is The Perfect Personification Of an Enchantress And Steaminess.
Team Credits:
Model: Kyra Marie @kyra_belanger
Photographer: Luis Gomez @universe137studiosofficial
MUA: Kyra Marie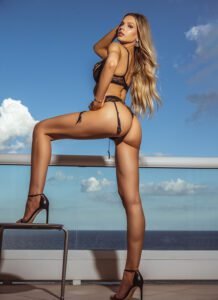 Our model is here with some scene–stealing looks and you just can't miss out on them.
Were you excited to shoot for FHM?
Of course! I was extremely excited and grateful to shoot for FHM, it has always been a dream of mine! I'm so grateful to have the opportunity to be on the cover!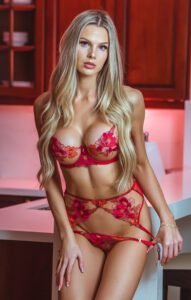 Only if looks could kill, her name would be on the wanted list. With her grace and poise, she is here to win your hearts.
Tell us something surprising about you.
Something surprising about me is that I used to be a competitive figure skater. I started figure skating at the age of 12 and had a natural talent for the exciting sport. I even went on to compete in dozens of competitions throughout my early teen years.
Describe yourself in one sentence.
I would describe myself as one of the most friendly and easy-going people you would ever meet.
"I started figure skating at the age of 12 and had a natural talent for the exciting sport."
What are some of your hobbies?
Some of the hobbies that I enjoy are working out, social media and shopping.
What is your biggest turn-on?
My biggest turn-on is a good sense of humour. I love to laugh and if someone can make me laugh with ease, I'm instantly attracted to them!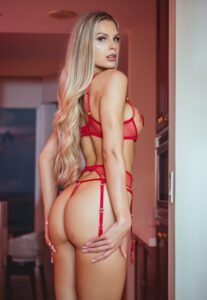 Giving us major goals with some iconic fashion statements.
What turns you off the most?
What turns me off is arrogant men and their rudeness towards others.
Here is your inspiration to recreate this "Oh so stunning" look.
Describe to us your perfect date.
My perfect idea for a date would be a candle-lit dinner on the beach with champagne and caviar.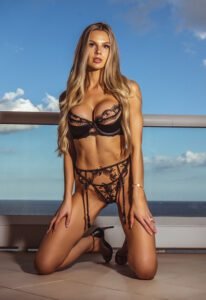 You simply cannot take your eyes off of her, no matter how hard you try.
What would you consider to be your biggest challenge as a model so far?
What I would consider my biggest challenge as a model is posing in particular ways. Also, recreating looks for hours for a long time is something that I found challenging.
Having nice clothes doesn't necessarily equate to being well-dressed. It all comes down to balancing the style quotient.
Any last words you would like to share with the readers?
I want to share with everyone to try to be kind whenever possible. Believe me, it's always possible.