Pantashoes Anyone? This New Collaboration Is Perplexing And We're Confused About It As Well! Dive In To Know Everything Before Buying.
With wearing the right athletic apparel comes an effortless workout. Any kind of athletic activity, be it gymming or sports, involves a lot of falling, bumping, and stretching. All these vigorous exercises and training call for the perfect athleisurewear. Comfort comes first, but they should also be flexible enough to allow for a wide range of motion, and durability is much needed. Just like that the German sports brand Adidas and Spanish luxury designer Balenciaga have knocked heads together for a second season to give us the luxury athleisurewear collection we didn't know we needed. And guess what? We have caught our eyes on the nylon Women's Balenciaga / Adidas Pantashoes from their collection.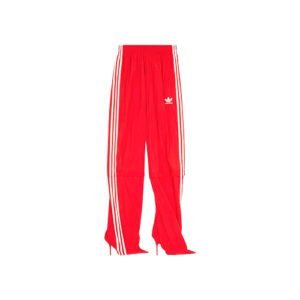 Although we love a designer collaboration, we're going to level with you, for this one; mostly with the laughs. At first glance, they look like regular Adidas stripy track pants, but they come with built in high heel shoes. The Pantashoes of their collection seem like losing a track itself, suggesting this fashion is not for sports. You clearly don't need to know a lot about fashion to realize that Balenciaga has seriously missed the mark-yet again! This standout piece from Balenciaga's Spring 23 Collection from the NYC Show is made of light nylon and 100% polyamide. It altogether has a high percentage of shrinkage and is formulated to specially resist moisture absorption.
This luxury apparel doesn't actually make life easier for the wearer, especially since they'll need to keep hoping they come in the right combination of waist and shoe size if you want a good fit. And because the red heels join seamlessly, they're a real struggle to slip into. We fail to understand the practicality about why anyone needs their shoes built into their trousers, since this obviously takes away the option to choose which footwear you want to go out in. Ladies if you are clumsy, there is a high risk of falling down in this pair as it's not that comfortable for your feet, because the fabric gathers around your feet making it a safety hazard.. The Adidas / Balenciaga Pantashoes in all their glory can only be Drycleaned.
How does it feel to get your heels drycleaned? Well it's not the first time Adidas has teamed up with others for some designer clout: Stella McCartney's gym wear line has proved so successful, it's been running for seasons. Let's see how successful these pantashoes prove to be!