Actor Daniel Radcliffe and his long-time girlfriend Erin Drake had their first child. Read out to know more.
Actor Daniel Radcliffe who rose to fame from the film series "Harry Potter" is now a father. Daniel Radcliffe and his long-time girlfriend, actor Erin Darke welcomed their first child. The birth of their child was confirmed by Daniel's publicist after the couple's photos went viral on social media of pushing a pram in NY city. The couple haven't disclosed any information about their child such as the sex, and name of the baby and when the child was born.
Actor Erin Darke's pregnancy news was first reported in late March 2023, when Daniel and Erin were spotted together shopping in New York City. Drake's baby bump was visible underneath her black hoodie, while Radcliffe wore a blue puffy jacket with rainbow colour cap and black jeans.
Recently, the couple were seen again but this time they were with a blue colour pram. 33-years old Daniel wore a grey T-shirt with a dark grey hoodie & a matching pair of jeans and a blue cap. He hides her face with a black mask. While his 38-years old girlfriend Erin wore a black round neck t-shirt with a dark green jacket and blue pair of jeans. She completed her look with tanned boots.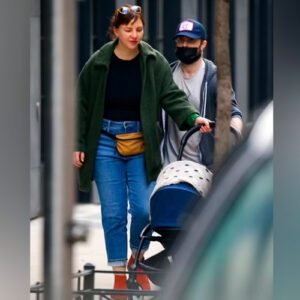 As soon as the photo surfaced on the internet, their fans get excited with this news, and many of their fans commented on the photos. One wrote " Congratulations Erin and Daniel", and another user said, "I am feeling old". With this news 90's kids get nostalgic, another one wrote: "How am I this old, like… Harry Potter is a father now". One user commented, "I think they had a boy".
Actors Daniel Radcliffe and Erin Drake first met in 2013 while filming for "Kill Your Darlings" in which Daniel plays the role of Poet Allen Ginsberg while Erin plays the role of Gwendolyn. The couple have been dating each other for over a decade. However, they always maintain a distance from social media and kept themselves low-key.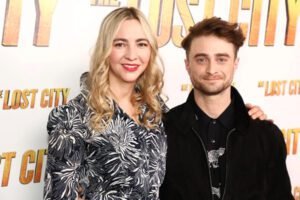 During an interview, Daniel Radcliffe said that he loves the kids around him. He would love his kids to aspire to work behind the scenes. He further said he wants his kids…If and when they exist… he would love them to be around him on film sets".
About Daniel Radcliffe: 
Daniel Radcliffe got fame as Harry Potter in the series of the same name which was first released in 2001. The series was adapted from J.K. Rowling's novels and the actor was the main lead in the movie and cast in all 8 parts. Over his acting career, the actor received several awards and nominations. Most recently, his film "Weird: The Al Yankovic Story" was nominated at the British Academy Television Awards (BAFTA) and also won Best Actor in a limited series or movies for the same movie at Critics Choice Awards this year.