Actor Shoaib Ibrahim shares a health update about his premature baby boy and wife Dipika Kakar in a Youtube video. Read on.
Television actors Shaoib Ibrahima and Dipika Kakar welcomed their first child – a baby boy on June 21, 2023. Dipika Kakar had a premature delivery and her fans & followers were concerned about the actor's health. An actor shared this good news by sharing a story on his social media account. He wrote, "It's a premature delivery but there is nothing to worry about". The baby was born the day after Shoaib's birthday. In his story, he also shared that his little one is in NICU under observation.
Shoaib Ibrahima and Dipika Kakar welcomed their first child
Taking to his youtube channel, Shoaib shared a new video, featuring his wife Dipika Kakar from the hospital. In the video, Shaoib shared the health update of Dipika and the newborn baby. The actor said "Doctors are seeing improvement in his condition with every passing day. They are very confident that he will recover soon and we'll take him home with us." Further, he added, "Things are much better than before, but not completely fine. Our baby will be kept in NICU for a few more days."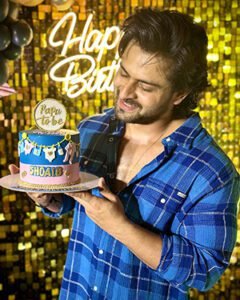 A baby was born the day after Shoaib's birthday
After that, he talked about his wife Dipika Kakar and said "She still has a little pain due to the C-section but she's recovering. Expect her and me, no one from the family has met the newborn." Then, Dipika Kakar also joined him in his video and shared that they were allowed to see their baby boy twice a day and it was like an energy dose for them even though it hadn't a good sight. She also shared that the baby was born in seven months that's why he was kept under observation. 
Actress Gauhar Khan also send them good wishes
Ahead of the video, Shaoib also said, after the surgery when the doctors asked Dipika about the child, the actress kept on repeating that she had a gut feeling about having a boy. Taking to his Instagram, the actor shared his first picture with his wife after entering into parenthood. In the photo, Shoaib kneeling down to be right to his wife Dipika, who was seen resting in a hospital bed. The couple was seen smiling in the photo. The actors' fans & followers filled the comment section with good wishes. Their friends also commented on the post and send them good wishes on the birth of their first child.
The couple also said that they have decided the name of their baby before. The time will come soon when they reveal the name of their child. Now, they have made a little effort to call him Chhotu and tell their fans to wait a little longer.